Carlingford COMMUNITY NEWSLETTER
JULY 2021 EDITION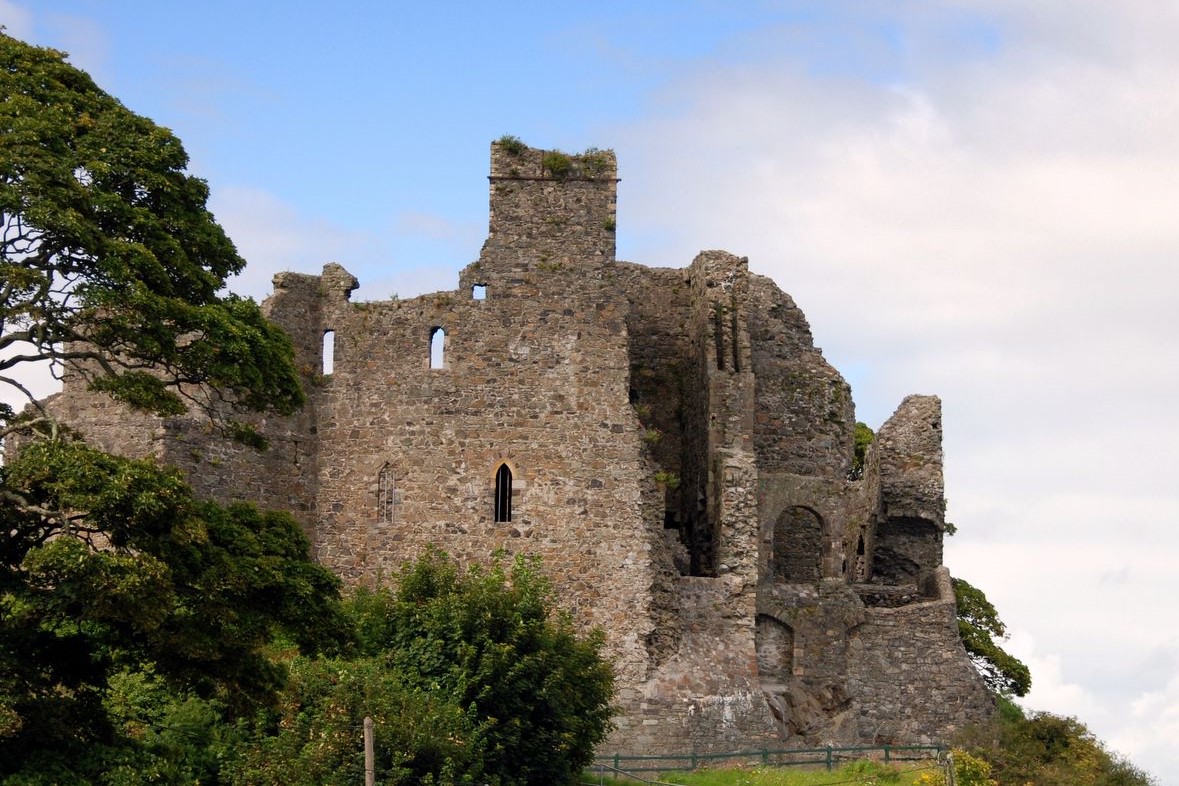 This newsletter is jointly produced by the bodies representing the Carlingford Community, namely:
Carlingford Lough Heritage Trust CLHT
Carlingford & Cooley Tourism Assoc. CCTA
Carlingford Traders Association CTA
Carlingford Tidy Towns CTT
Carlingford Community Development CCD (The Foy Centre)
Carlingford Residents Association CRA
Carlingford Community Forum News
The Forum wishes Carlingford Tidy Towns all the best in their pursuit of funding for new playground equipment, surfacing etc. under the Town and Village Renewal Scheme 2021.
Work continues on the Carlingford.ie website. Those who declared an interest in having their business included should have been contacted recently by the Digital Marketing Company carrying out the work.
It is good to see the Peninsula back in business. We must however continue to be vigilant for the protection of those around us. It is great also to see many local sea swimmers out enjoying the increased temperatures.
Stay safe and enjoy the rest of the summer!
Carlingford Community Development (The Foy Centre)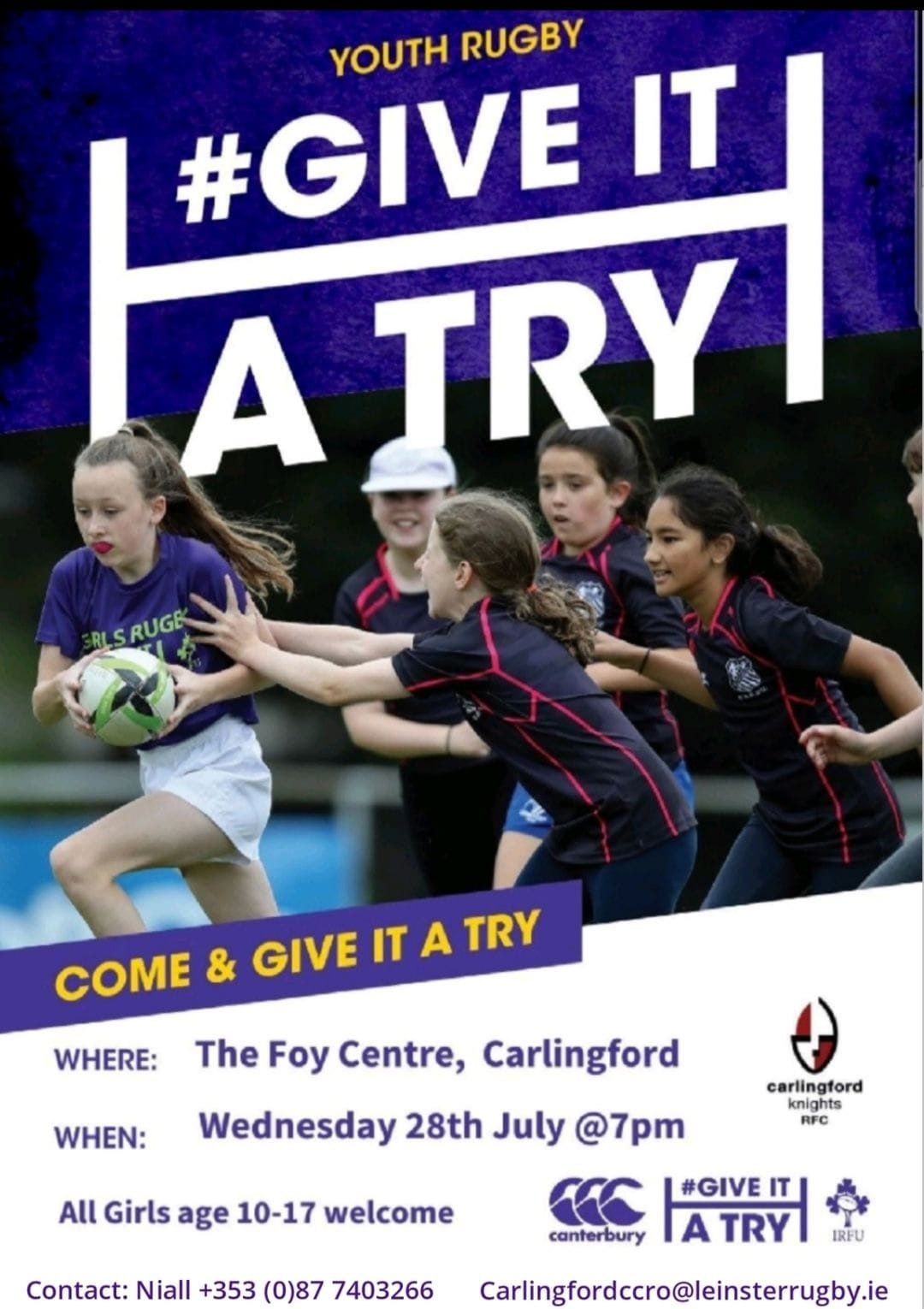 We are running our 'Give it a try rugby course for girls' starting this Wednesday 7.00pm at the Foy Centre. This will be over a number of weeks. 
This is a great way to introduce girls to the game, we will have our Leinster CCRO Niall Kerley along with girls from the Knights tag rugby team.
As our club continues to grow we want to get more girls involved in or youth section so any girls who would like to try out please come down to GIVE IT A TRY!
Carlingford Lough Heritage Trust

It's been another busy month with lots to report!
Station House
We're ticking along nicely in Station House, welcoming lots of visitors from all of the country to Carlingford Tourist Office and telling them about all the great things there are to do in the town, peninsula and indeed across the Lough, letting them know that there's plenty to keep them here for a while! Quite a few people have come in to collect stickers for their SEA (See, Eat/Experience, Admire) Louth passports. If you're a local and you don't know what the SEA Louth passport is, pop into the Tourist Office and we'll tell you about it – it might be something of interest for you if you're planning on doing a few day trips around the county during the summer. It's well worth popping into the Tourist Office anyway, if you haven't been in already – to look at a replica of the Heritage Centre mural, to check out the latest attractions and activities, and to have a browse of our attractive display cabinets, featuring the wares of six of our local retail businesses.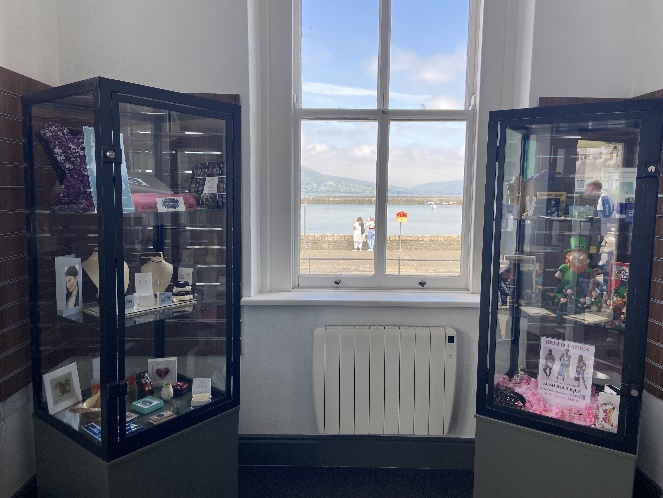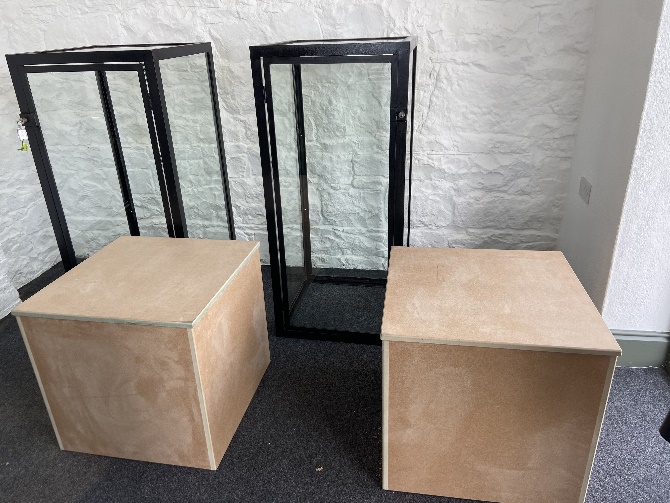 Display cabinets before we opened the Tourist Office. Display cabinets after we opened the Tourist Office.
We're also featuring a picture of us sporting our new 'Carlingford Heritage Ambassador' jackets kindly sponsored by Garrett Mallon Design Centre. We're just missing a cat walk!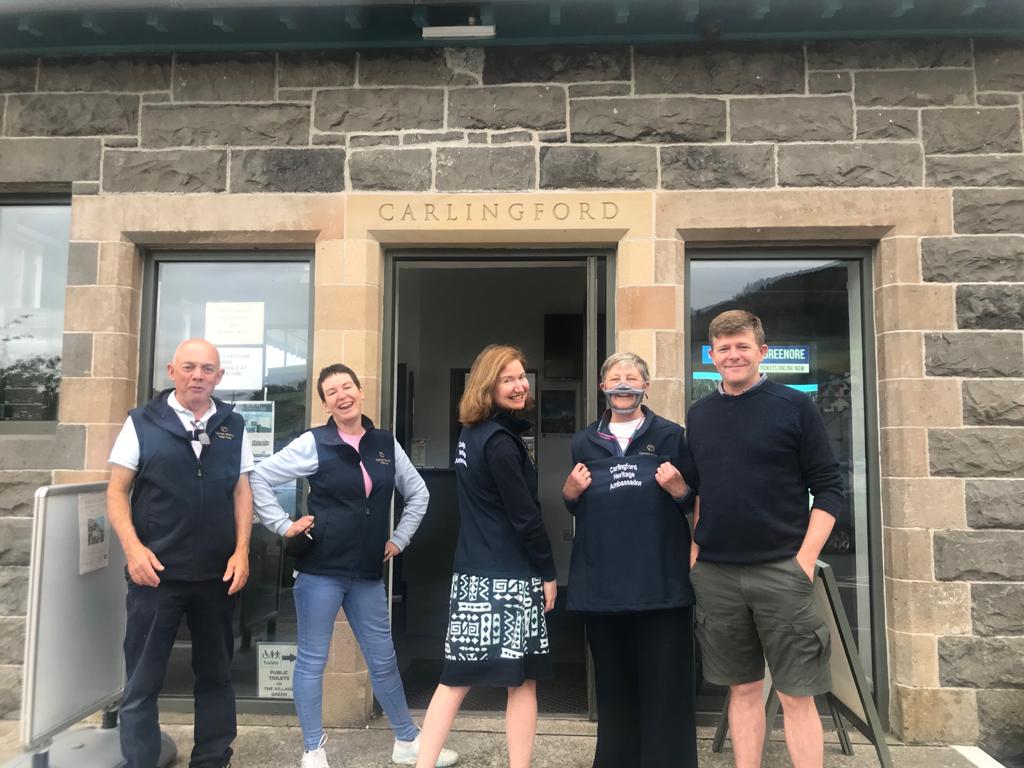 Some of the Carlingford Tourist Office crew in our new jackets.
Things are picking up slowly but surely in the Remote Working Hub. It's interesting – we've had a couple of people who had booked their children into local summer camps, book desks for themselves. They figured that while their children were having fun here in Carlingford, they themselves would enjoy a break from the four walls and soak up the summertime vibe, whilst still getting some work done! Great idea: 'work hard, play hard' so to speak!
Carlingford Heritage Centre
As usual we've been busy welcoming visitors to the Heritage Centre, who come to see the mural of medieval Carlingford, the stunning stained-glass window, and the fascinating video on Carlingford from the ice age to the steam age. And of course, there are the triptychs with exhibits documenting the different elements of medieval Carlingford's history. A notable addition is the children's art station (adults welcome too!), where children can colour in pictures of medieval knights, or Viking longships in the Lough, or do tracings of Carlingford's medieval buildings. Something fun for a rainy day, or indeed, a very hot sunny day as at the time of writing. It's nice and cool in the Heritage Centre!
.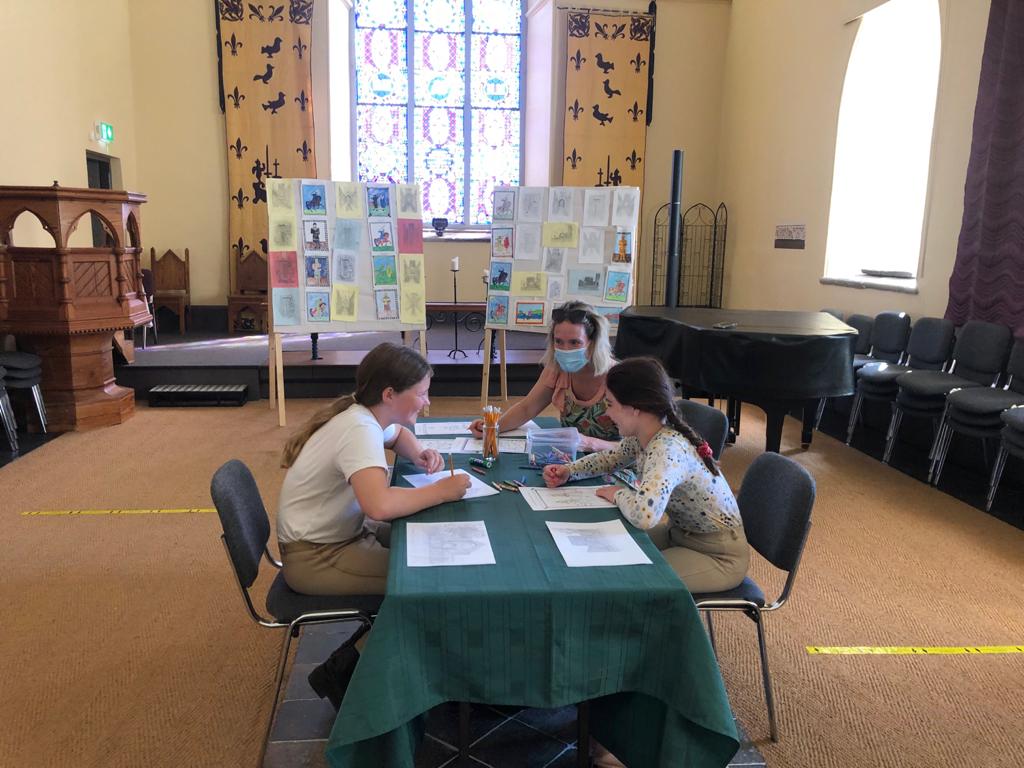 Some children at our art station at Carlingford Heritage Centre.
Something else new this month is our pop-up Combo tour, combining a tour to King John's Castle with a visit to Ghan House, where visitors get to sample a fabulous taster plate.
This tour will be running on the following Saturdays: July 31st, August 14th and August 28th (number dependent) and needs to be booked at least three days beforehand. Meeting time: 12 noon at Carlingford Tourist Office. For more information, please contact us at info@carlingfordheritagecentre.com or at 042 9373650 or 042 9373454.
We require a minimum of six people to run it and ended up with the Magnificent Seven so we were good to go. After a tour of the castle (which was recently awarded joint winner of RIAI's Public Spaces Award) with our local guide Caitriona, the group proceeded to the Ghan House, where they sat out on the lawn in front of the pond savouring a taster plate of the finest local artisan produce: Carlingford oysters both au naturel and all crispy in a citrus mayonnaise; smoked salmon on organic homemade brown bread; Boyne valley cheese on homemade seeded crackers with Joyce's homemade chutney; smoked black pudding parcels on a celeriac remoulade and the craziest flavour of homemade ice-cream to follow it all up. But we're not going to tell you what it was. You'll have to try the tour yourselves to find out! 😊 It went down a treat; that's all we're saying! Owner manager, Paul Carroll sat down in the shade to join the group and share some of the history of this Georgian property. It was all simply idyllic.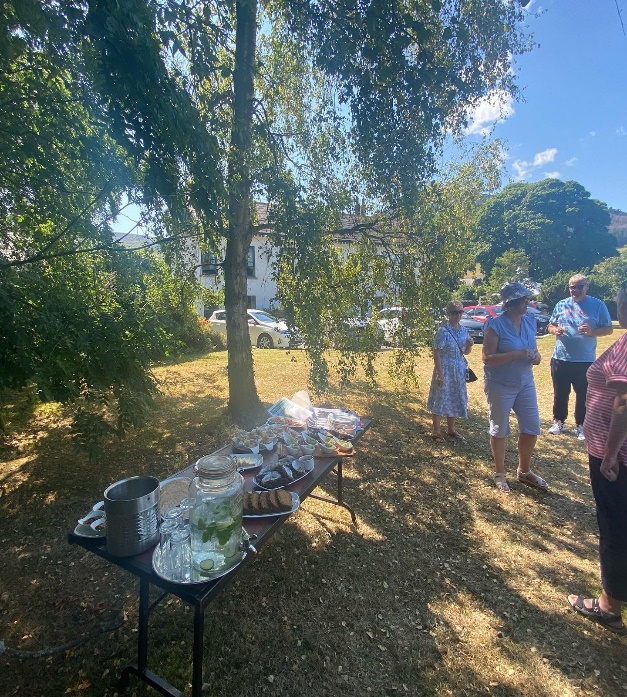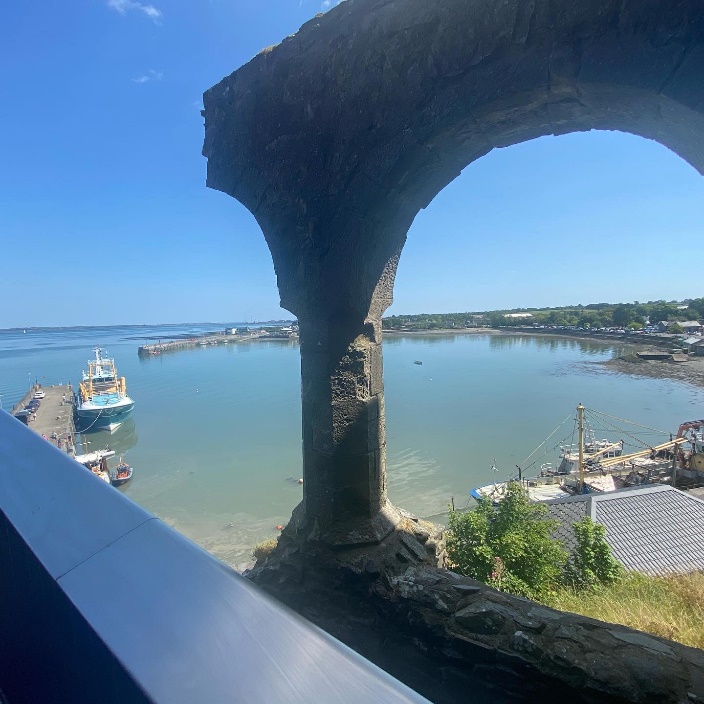 Feasting their eyes on the view Feasting on the best of local artisan fare
For more information about this tour and future dates, please contact us at info@carlingfordheritagecentre.com or at 042 93 73 650 or 042 93 73 454.
Meanwhile back at the ranch, as well as cutting the overgrowth on the cemetery wall,
Gerry, Peter and Dan have been busy cutting back a load of brambles to expose one more grave, or indeed to be specific, one Moore grave! The grave is namely that of William Moore of Carlingford, 'who departed this life on the 8th of May 1852 in the 95th year of his age'.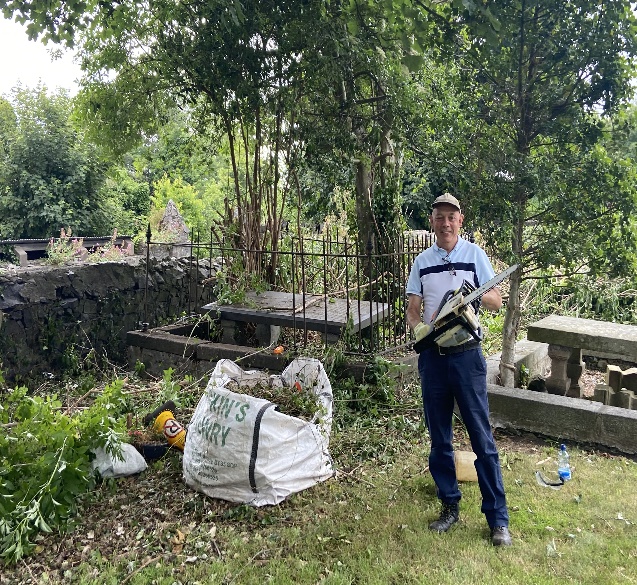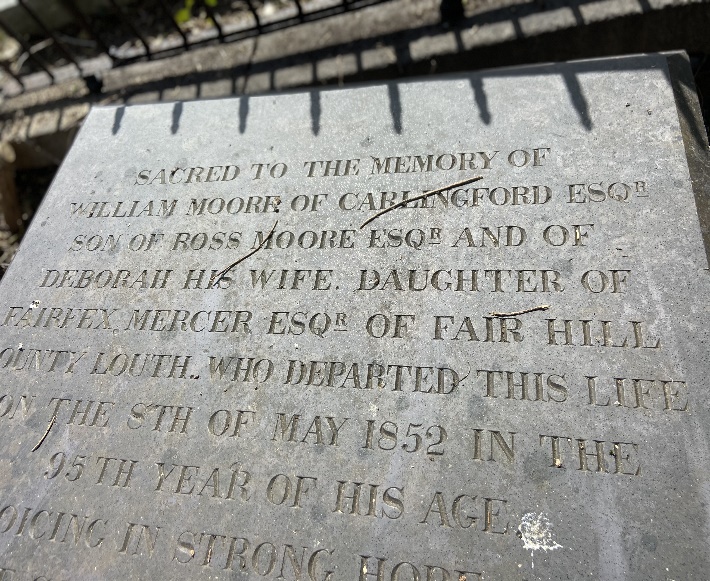 Gerry looking trigger happy with the chain saw! One more Moore.
Things to look forward to!
It's always nice to have things to look forward to. Sheila, our venue host, is particularly looking forward to our next wedding at the end of July. For Sheila, it's always nice, having liaised with the couple as they arrange their big day, to see them walk up the aisle and tie the knot.
We're all looking forward to Heritage Week, August 14th to 22nd. This year, like last year, most of it will be online because of Covid 19, but here in Carlingford, to mark the week that's in it, our Castle tour and Medieval Town tour will be free for the duration. Also, we'll be posting a number of projects that people can access online. Check out the first one to be uploaded at: https://www.heritageweek.ie/projects/a-child-friendly-heritage-experience-at-carlingford-heritage-centre
Séamus Murphy, leader of the Cooley Mountains' Place Names project, funded by the Heritage Council, is ploughing ahead at an impressive speed getting stunning drone footage and voiceovers for the video (that he's making). So, we'll be excited to get a sneak preview of it when he stages a live Zoom session, showing a taster of the video, plenty of slides documenting the process, and a Q&A session, where he'll have a chance to explain why this project is so important.
We're also very much looking forward to our Autumn Concert Series in Holy Trinity organised by Zoë Conway and John McIntyre. Of course, Covid-19 regulations are still restrictive with regard to indoor live music but we're hoping that by mid-September we'll have the green light. We are posting the poster here again this month as a reminder of the good things to come. We'll sign out here wishing everyone a great month.
.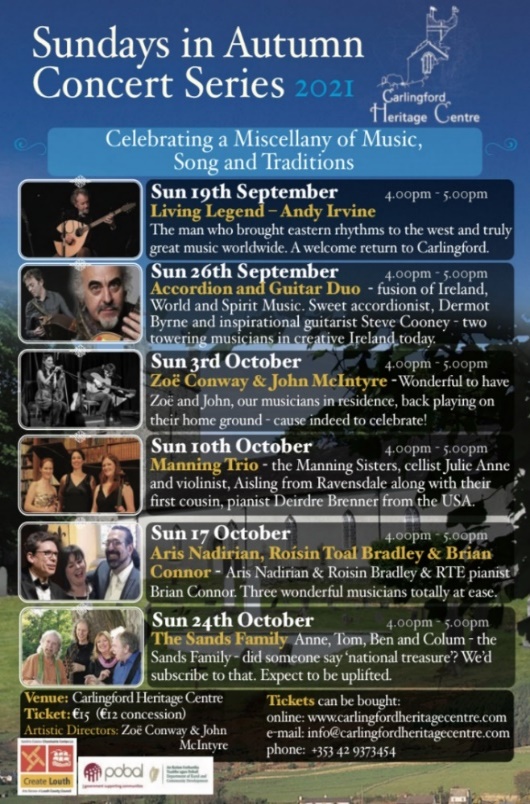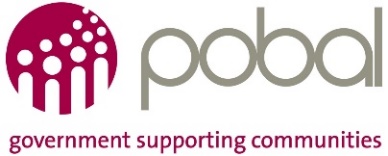 "This project is supported by the Department of Rural and Community Development and Pobal through the Community Services Programme".
Carlingford Tidy Towns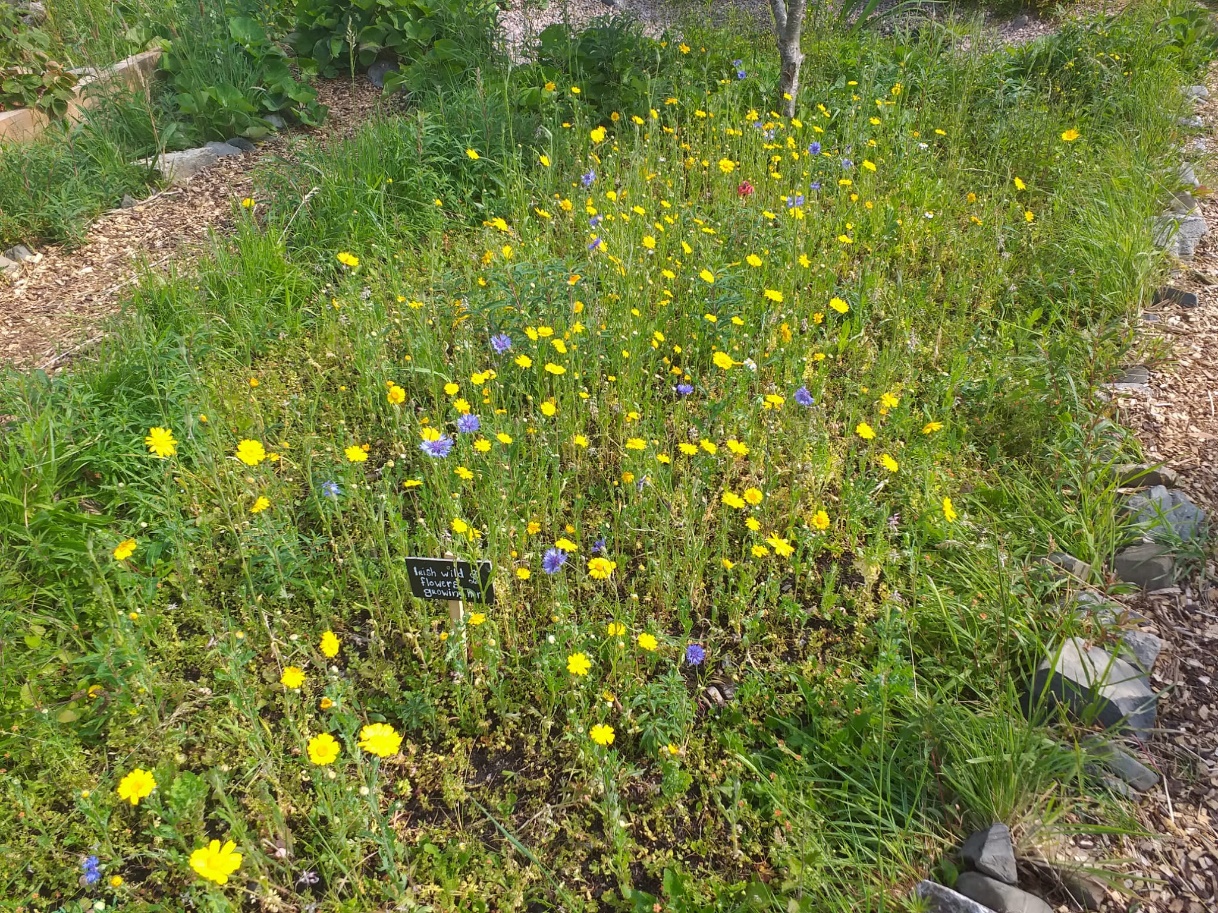 Anti-litter initiative
We have recently worked with Louth County Council and Newry and Mourne District Councils on a video to promote anti-littering and anti-dumping. The take home message of the video is 'Leave no Trace' and if you have waste 'Take it Home' We will post the video when it is released.
Carlingford Playground Renewal project
We have had an update from the Council that this project has been selected to put forward to the Department to be considered under Town and Village Renewal scheme. This does not mean the project has yet got funding, but it has been shortlisted as a contender.
Carlingford Tidy Towns Project Scheme
We have been awarded a grant to undertake the following projects in 2021
Picnic table(s) for Anchor beach area
Biodiversity planting at Fair green Car park and Housing estates
Bulb planting
Paint for streetscapes in Dundalk Street, Newry Street and Castle hill
Go Fund me Carlingford Tidy Towns
We require match funding for this grant. If you are in a position to contribute it would be most appreciated. Click on the link.
https://www.gofundme.com/f/carlingford-tidy-towns-projects-2021?utm_campaign=p_cf%20share-flow-1&utm_medium=chat&utm_source=whatsapp&fbclid=IwAR0i189zE0BvZPAqtYDy7dgTCNnABdOFEFVBzMZ1kOG3BkoQdi9sypc3ew8
Works
A team of volunteers have been watering the plants in the hot spell. Thank you for all the hard work. We worked alongside Castlehill Residents to paint the entrance walls to their estate. Thanks also to two generous locals who loaned us a paint sprayer. Dan and Vaszyl have been busy weeding and sweeping the town.
Judging
Judging for National Tidy Towns will be online this year and based on our application.
Judging for Louth Looking Good has now commenced. Please ensure your property or estate is presented at its best, litter free and check for weeds at the base of buildings. Please do consider painting your property this year if you can. Carlingford is looking very colourful so far.
Water Please don't waste water. Use for essential use only.