Carlingford COMMUNITY NEWSLETTER
AUGUST 2021 EDITION
Carlingford Community Newsletter No.88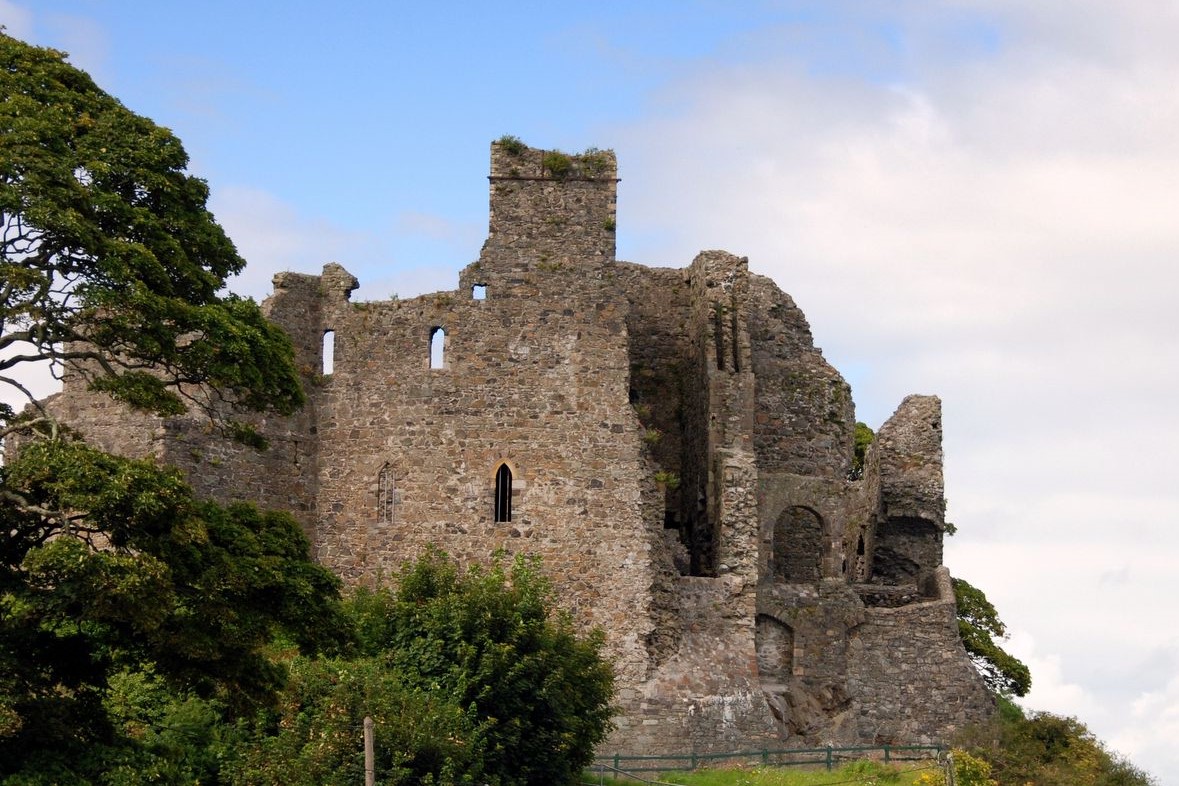 This newsletter is jointly produced by the bodies representing the Carlingford Community, namely:
Carlingford Lough Heritage Trust CLHT
Carlingford & Cooley Tourism Assoc. CCTA
Carlingford Traders Association CTA
Carlingford Tidy Towns CTT
Carlingford Community Development CCD (The Foy Centre)
Carlingford Residents Association CRA
Carlingford Community Forum News
The items on the agenda for the Forum this month include the Streetscape Enhancement Scheme, details of which were forwarded to the participating organisations to be communicated to their members! There is a lot of interest in the scheme and we are in contact with Louth County Council to progress the current expressions of interest.
The provision of a less abled parking facility to replace the one recently removed from Newry St. was also discussed and feedback given to Louth County Council.
We welcome the resumption of work on the Ghan Folly which has been delayed by recent lockdowns. We hope to see completion of the work very soon.
Training, as part of the relaunch of the Carlingford.ie website is being organised at present. Regulations permitting, it is hoped to do the first session in Carlingford but otherwise the training sessions may be on Zoom.
Work will continue on the Fáilte Ireland Mini Masterplan over the coming months and we will keep you posted.
Carlingford Community Development (The Foy Centre)
Carlingford Knights
A new season is nearly upon us.
We hope for more rugby this year than last. Our boys' youth rugby starts training this Saturday from 11.30. As our numbers increase we are hoping to field an Under-14s and Under-15s team this year.
Our mini rugby section will return to training in September and we will have more details on this very soon.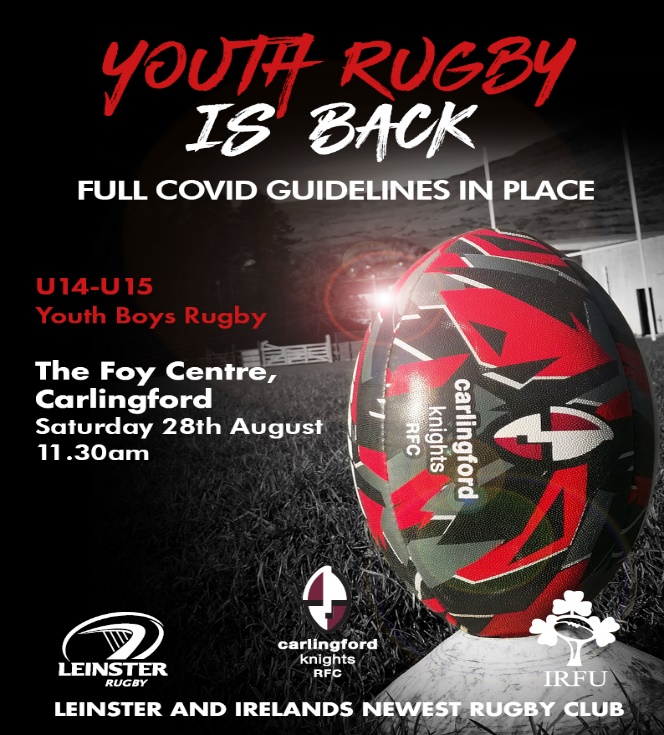 Carlingford Lough Heritage Trust

It's been an action-packed month this August – here's the lowdown!
Station House
It's been a busy summer so far in the Tourist Office. We're enjoying welcoming visitors from all over the country and letting them know what all that there is to see, do (and eat!) here in Carlingford and the Cooley Peninsula. Here's a pic of Gerry with a particularly friendly visitor.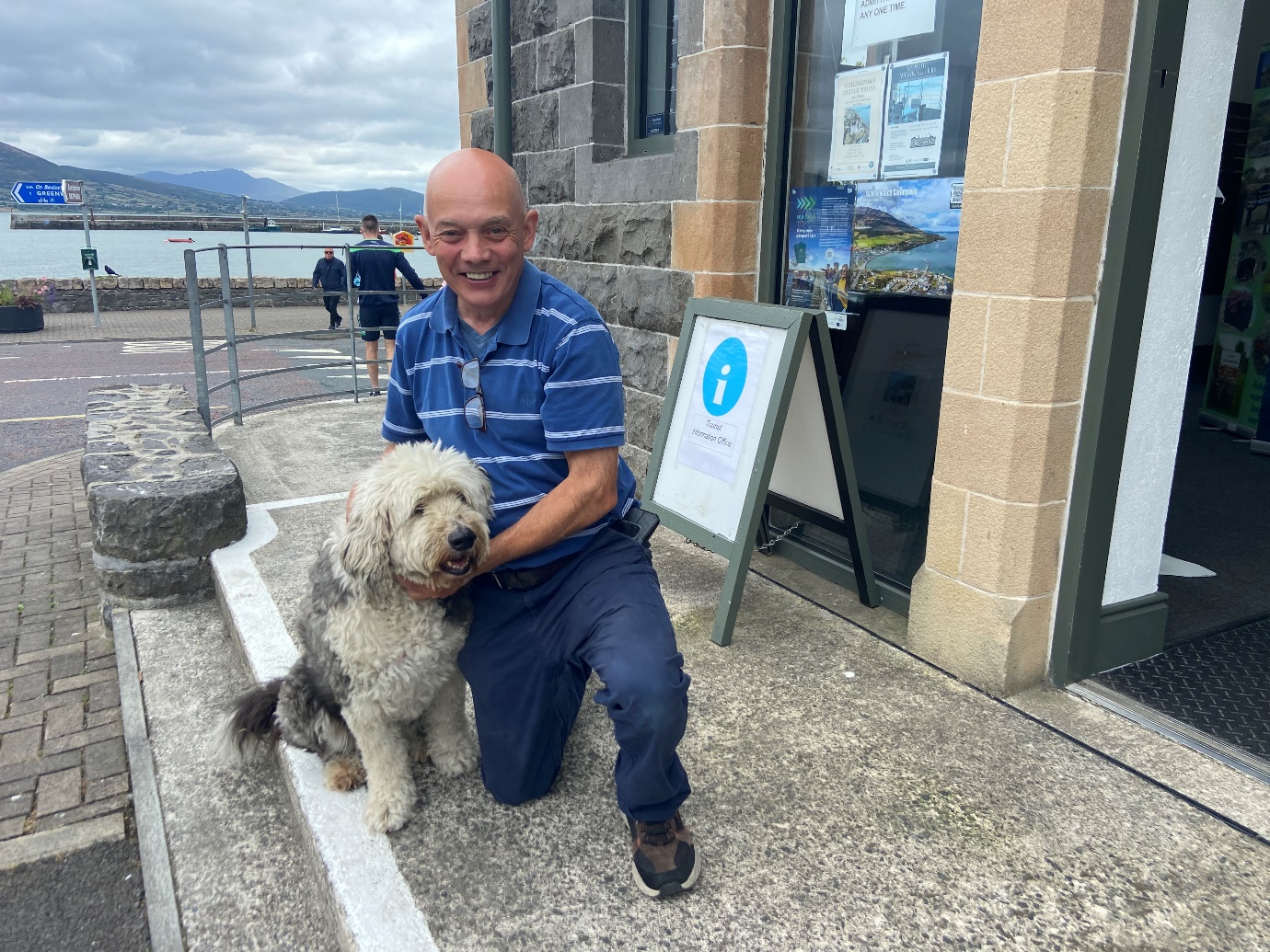 Gerry with our canine visitor
This month again in the Remote Working Hub, our tenants have been those holidaying here who need to catch up with work and require a bit of peace and quiet and high-speed broadband. Thus, another link to tourism down in Station House!
Carlingford Heritage Centre
August has been a particularly busy month for us because of National Heritage Week, which took place this year between August 14th and 22nd. Like last year, most of the events took place online and we had a number of projects uploaded on the Heritage Week portal (www.heritageweek.ie/projects/). Our online projects included:
Mapping the Cooley's Minor Place Names Project: Filming in Progress
The Cadgers' Pad video
Grandson-Grandfather Interview about the Hugh Moore stained-glass Window
A Guided Tour of Holy Trinity Graveyard
A Maritime Tragedy on Carlingford Lough retold
Taking to the water: Currachs on Carlingford Lough
A Child-Friendly Heritage Experience at Carlingford Heritage Centre
Carlingford's medieval monuments through Mandarin
The three videos relating to the Cadgers' Pad, the grandson-grandfather interview, and the maritime tragedy retold are all available to see on our YouTube channel
https://www.youtube.com/channel/UCbO4OtSauKJLBKKvXEu9YFQ.
Despite the fact that Heritage Week was mostly online, we kicked it off with a bang here in Carlingford – Noel, Harry and Gerry mounted the stairs of the tower and rang Holy Trinity's beautiful bell (see the detail below).
Noel, Harry and Gerry about to ring in Heritage Week Detail on bell: Erin go bragh
In addition to this, we offered our tours for free – the Castle tours, the Medieval Town tours, and a brand-new Holy Trinity Graveyard tour. The team at Carlingford Heritage Centre had fun looking for a couple of the elusive headstones. Trying to locate the oldest engraved headstone proved to be the biggest challenge – it turned out it is the only one facing west so we had been looking at the wrong side until Sheila spotted it.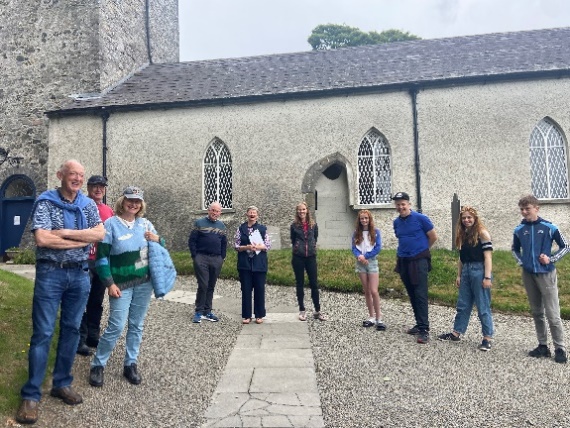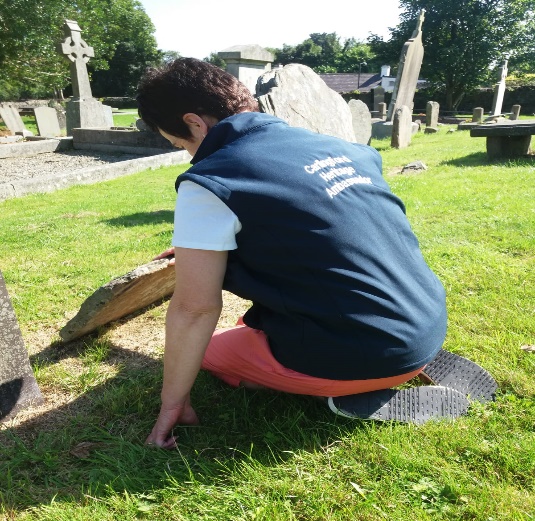 Patricia with her group on the graveyard tour.
Sheila finds the oldest engraved headstone – facing West.
Another tour we ran this month was the Castle Tour and Ghan House Experience. As you can see from the photo, the drizzle didn't put a damper at all on the spirits of this lively crew on August 14th. With the convivial company and culinary delights, it made for a perfect Saturday afternoon. For more information about the dates for this tour please contact us at info@carlingfordheritagecentre.com or 042-93 73454.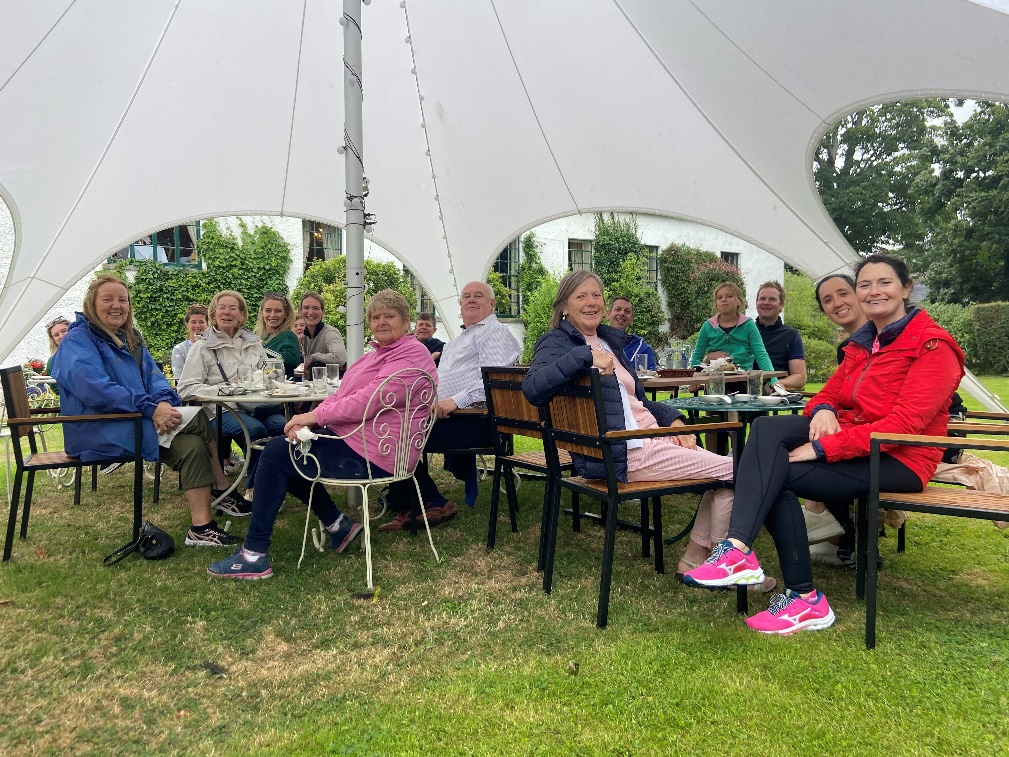 The best of company enjoying the best of local fare after an engaging Castle tour.
Another highlight at Carlingford Heritage Centre during August was the nuptials of Aoife and Carlo. We'd like to take this opportunity to wish to this special couple a lifetime of love, health and happiness.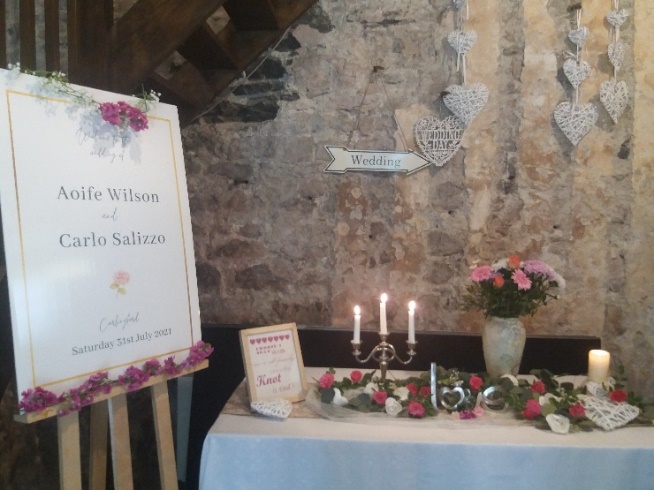 All set for Aoife and Carlo to tie the knot.
Things to look forward to!
Next month is September, which sees the start of our Autumn Concert Series in the Heritage Centre organised with the support of our artistic directors, Zoë Conway and John McIntyre. We're eagerly awaiting the end of August for more government guidance on indoor live music but fingers crossed, we'll get the green light. So, do keep an eye on our website www.carlingfordheritagecentre.com/events/ and social media for updates. See the poster below for the line-up.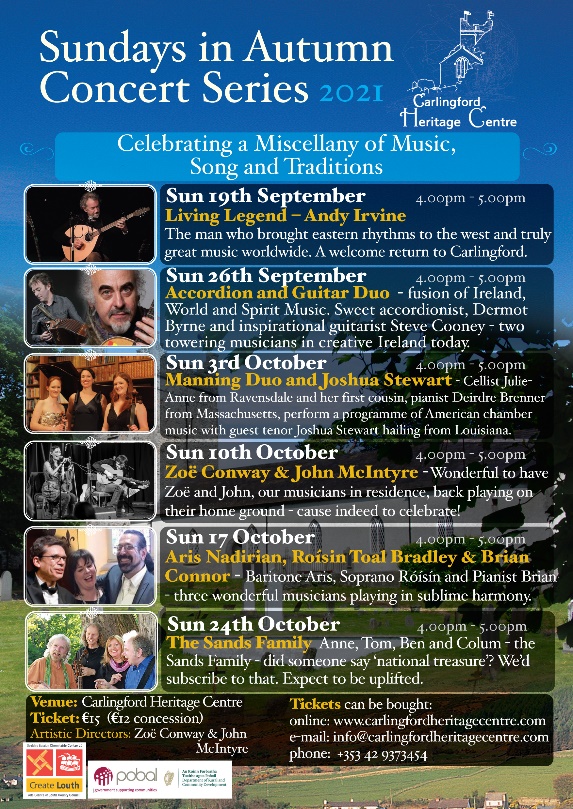 Autumn Concert Series.
Oíche Chultúir 17 Meán Fómhair 2021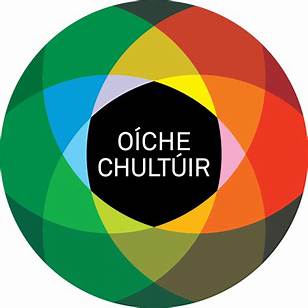 REQUEST FOR MATERIALS ON JACKIE HEARST
RÍMHÁISTIR AN BHOSCA CEOIL
Gaeláras Mhic Ardghail will be organising a Tribute to Jackie Hearst, famed Irish traditional music accordion player, on Friday 17 September, as part of the island-wide Culture Night programme. The Jackie Hearst International Céilí Band was in great demand at the height of the Céilí boom throughout Ireland and abroad. The evening will be a celebration of Jackie's life and legacy. The programme will consist of a bilingual presentation, a free-standing exhibition, and musical recordings as well as live music performances featuring a Jackie Hearst repertoire. The venue will be The Railway Bar, Monaghan Street, where the traditional music scene, so dear to Jackie Hearst, is practised and enjoyed with weekly sessions.
The organisers are keen to source any material on Jackie, on loan for the evening, or as a gift to the Traditional Music Archive currently being developed at Gaeláras Mhic Ardghail. A resident of 69 Monaghan Street for most of his life, Jackie (better known to his family as John) is fondly remembered in that part of Newry, and we would like to hear from former residents of the West End of the town.
If readers have any information – newspaper cuttings, recordings, photographs, stories or other information which they think would be of interest, please get in touch with gaelarasmhicardghail@gmail.com or tommyfegan@gmail.com, tel. 07545 926773.
Beidh an oíche á reáchtáil i mBeár an Iarnróid, Sráid Mhuineacháin. Beidh aoi-cheoltóirí i láthair agus tá ócáid thaitneamhach geallta. Tá tús curtha le cartlann fuaime a lonnú sa Ghaeláras agus seo an chéad imeacht a bhéas ar siúl chun aird a tharraing ar a bhfuil san aircív cheana.
Help with dating old photo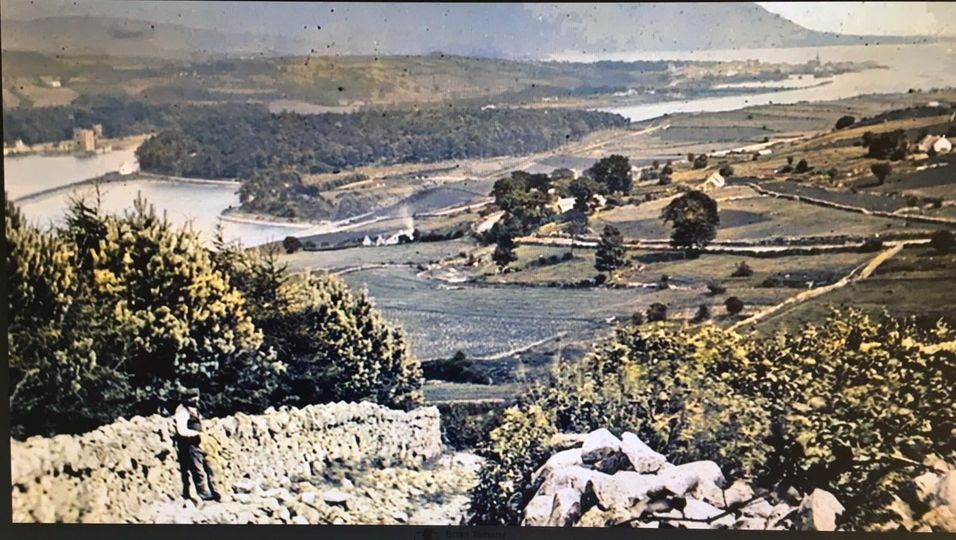 We are appealing for help in identifying and dating this old photo of Narrowwater and Cornamucklagh townland. It was taken from the steep road that leads down from the Flagstaff viewpoint, at a point immediately south of the border bridge. Apart from the absence of a plantation along the road, there is a striking lack of trees or hedges across the whole landscape. This suggests the photo may date from 1900 or earlier (the colour was clearly added later) when the countryside was constantly being scoured for firewood. By comparison, some postcard shots of the area from the 1920s and 1930s have rather more tree cover. The neatly capped stone wall where the man is standing seems to be new – the stones look clean and white and more stones ready for building seem to be piled on the roadway. The comparison shot we took at this spot shows dark grey stones. There is no sign of a number of houses
which are now quite old or derelict: most people acquired their land from the landlords in 1903 and there was a subsequent rash of housebuilding so this is another reason for thinking the photo may be pre-1900. We can clearly see the railway running on the edge of the Ferry Wood: it was completed in 1876. Your sharp eyes and shrewd minds may discern other clues. Anything about the Warrenpoint skyline?
The Heritage Trust would like to establish an archive of old photos like this one that have stories to tell, and we would welcome help from anyone with technical skills who could guide us on how to go about it. The basic idea is to appeal to the people of the Carlingford Lough area to dig out their oldest photos with interesting backgrounds that we can scan and return, but experienced photographers may be aware of collections from which we could acquire interesting items.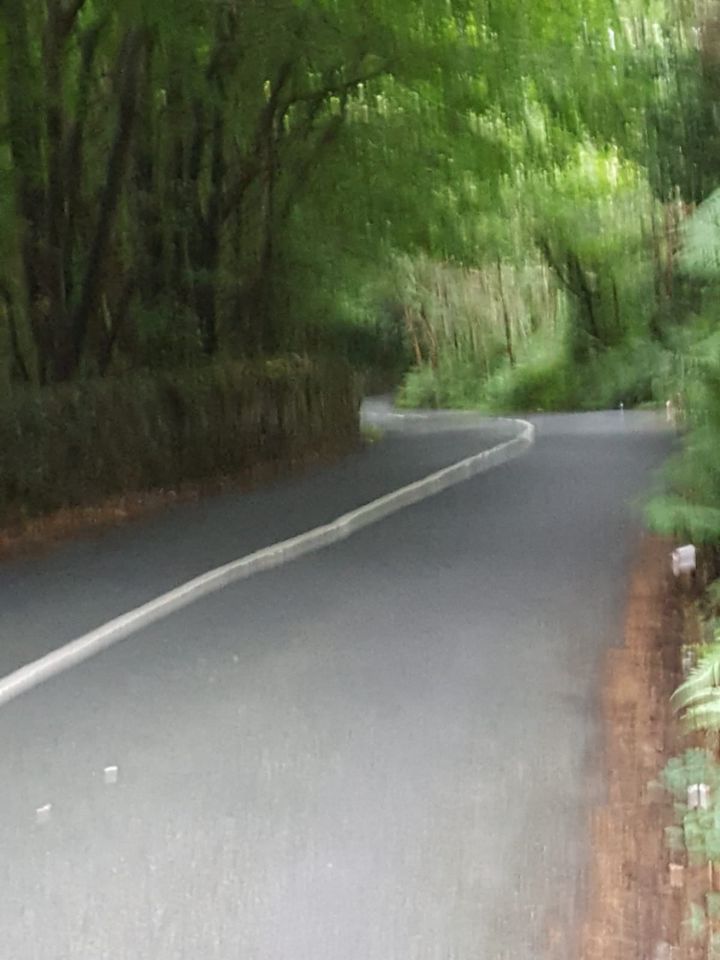 The road today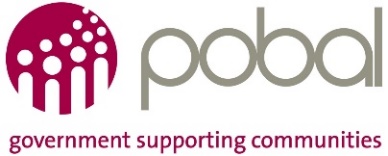 "This project is supported by the Department of Rural and Community Development and Pobal through the Community Services Programme".
Carlingford Tidy Towns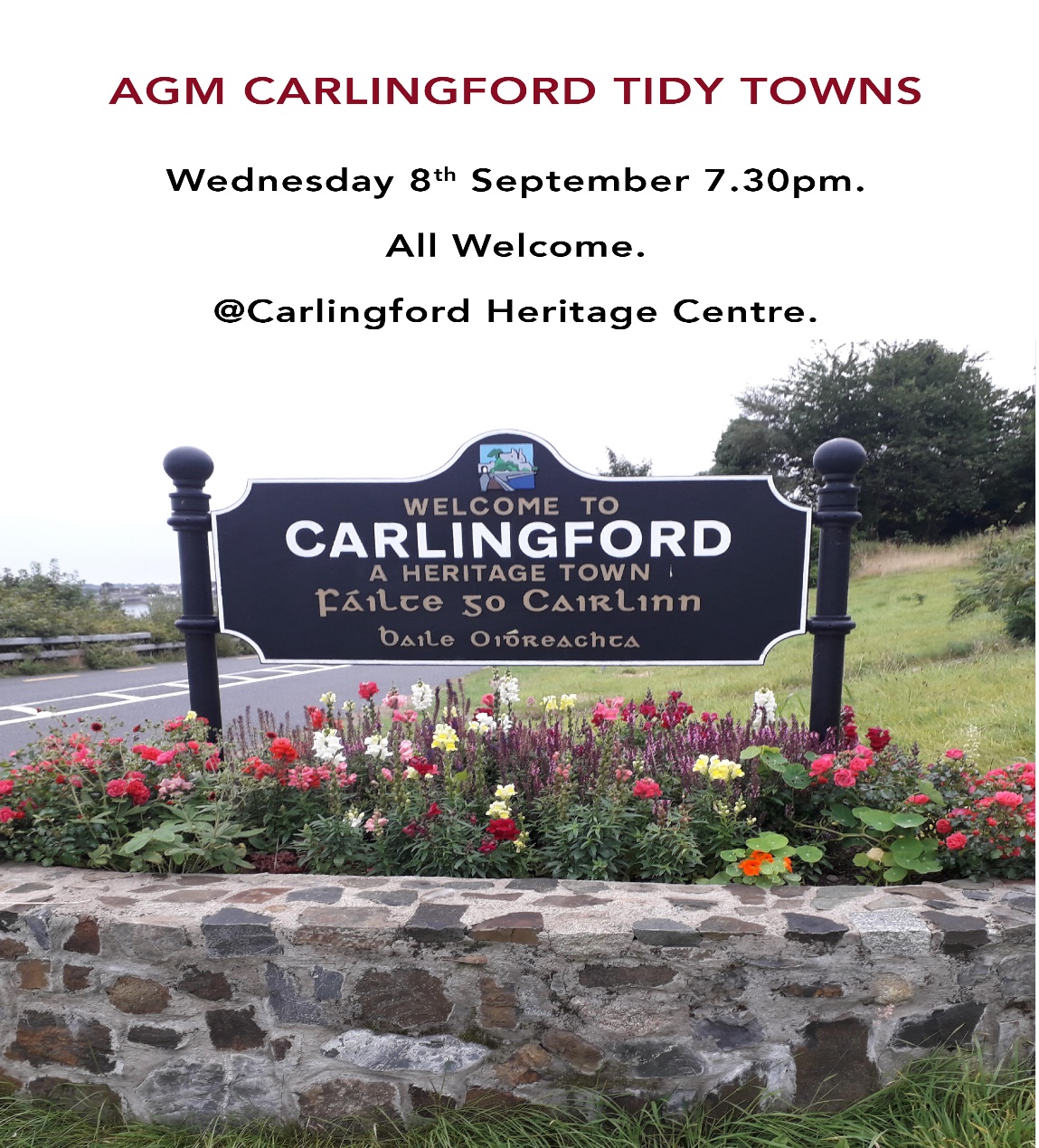 Carlingford Tidy Towns AGM will take place on Wednesday 8th September at 7.30 pm in Carlingford Heritage Centre. Please come along you will be able to view the design put forward to the Department for renewal of Carlingford Playground. This project has not yet received funding but we very much hope it does. If you are part of a Resident's group, Business or Community group we especially would like you to attend. If you are interested in volunteering we desperately need volunteers.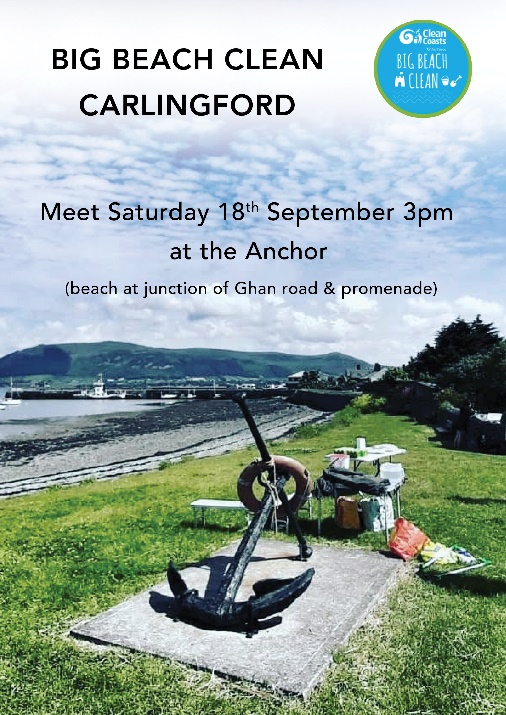 The Big Beach Clean will take place on Saturday 18th September at 3pm, Starting point the Anchor on beach where Ghan road and Promenade meet.
Louth County Council have been monitoring litter throughout the summer and marking Carlingford. Cigarette butts were identified as the main litter. Please dispose of in an ash tray or bin.
Litter picks will take place each Sunday at 8pm. If you can help meet on the promenade at this time.
Our Go fund me page has raised over 1000 Euro to date. Because of Covid normal fundraising activities can't take place. Thank you if you have already donated. If you would like to contribute please visit the page.
We have put in orders this week for two anti-vandal wheelchair accessible picnic tables and for Spring bulbs. We are soon to put in orders for plants to enhance the Fair green Carpark area and for Residents' groups. We are also purchasing paint.
Can you help out on a Wednesday or Thursday (weather dependent) morning? We have painting and planting projects that we need volunteers. The first project is painting the railings in the Children's playground. Tel 0429373686 if you are interested.
We have recently made an application for a shed to store our ride on lawn mower and sweeper under the Community enhancement fund.
We also await decisions on Clár funding where we applied earlier in the year for seating and picnic tables.