Carlingford Heritage Centres Spring News
Carlingford Heritage Centre is delighted to announce a jam-packed spring summer schedule. We have so many different events and activities happening over the coming weeks we felt a full blog piece was required. Firstly, we would like to thank all of our Volunteers who have helped to manage the Tourist office at the Station House since the start of March. The Tourist office provides information on walks, events, hospitality and activities in Carlingford and the Cooley Peninsula. Our tours also commenced on March 1st, if you have yet to avail of a Town or Castle Tour then drop into the Tourist office for additional information. Our volunteers will be delighted to speak with you about the wide range of things to do in the area.
At the Heritage Centre we have a wonderful series of concerts running this April. You may have noticed that the gates to the graveyard have been closed and off limits to the public. Following a spell of stormy weather, a mature tree fell on the grounds. We hope that access to the graveyard and the centre should be possible for the public from Monday April 11th.
The Heritage Centre will host a variety of events and musical concerts. Firstly, Conor & Cahal Masterson will hold a lunchtime concert performance of Brahms Violin Sonata in D minor at 2pm on Saturday April 9th at the Heritage Centre. Please call 042 9373454 for ticket enquires.
Drogheda Arts Festival in association with Upstate Theatre & Carlingford Heritage Centre will present "The morning side of the Mountain" by Peadar and Kathleen Elmore. The launch night will be on April 21st and second showing on April 22nd in Carlingford Heritage Centre. Booking 042:937454.
It's that time of year again, when everyone is invited to Carlingford Lough Heritage Trust's AGM on Monday April 11th at 7:30pm. If you have an interest in History, Heritage of the local area, and the Lough you are more than welcome to join us. Guest speaker on the night will be Fáilte Ireland's Mark Mohan, with light refreshments served afterwards.
On Sunday April 10th the Boyne Music Festival will present Connections in the Heritage Centre. Tickets available on our website: CONNECTIONS -Launch of the Boyne Music Academy, Nurturing Talent – Carlingford Heritage (carlingfordheritagecentre.com)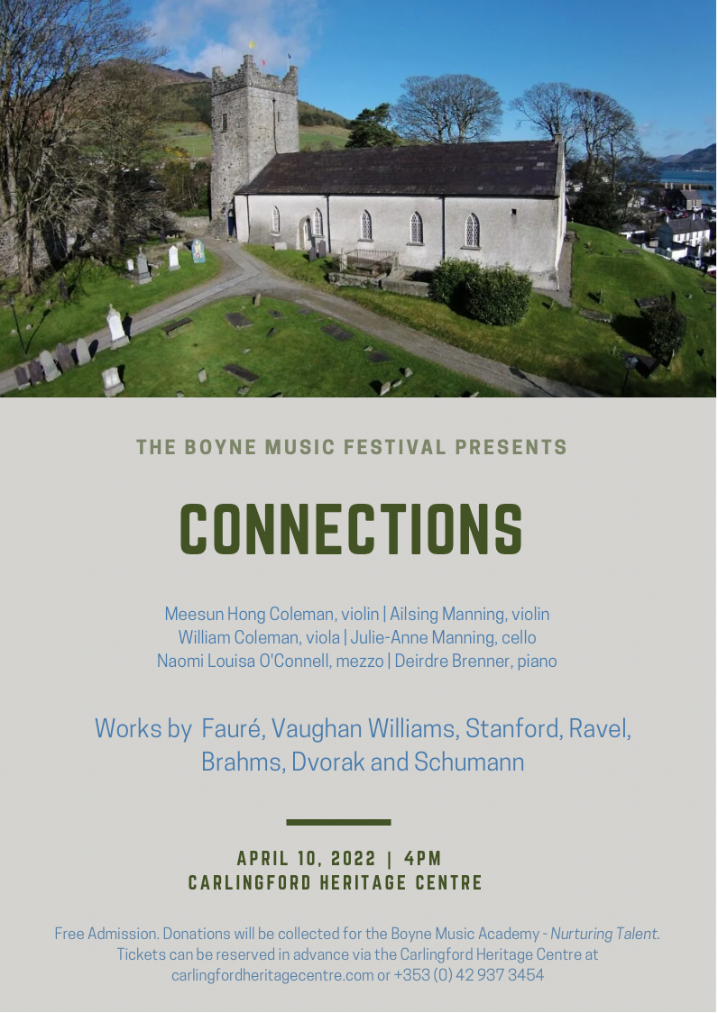 Following the horrifying images from Ukraine on our news and media outlets, there was an outpour of queries from the community requesting that we light Carlingford Castle in the Ukrainian colours, as an expression of solidarity. It was not possible to achieve this request, so Carlingford Lough Heritage Trust have placed flags at the Thomas D'Arcy McGee statue to express our solidarity with the people of Ukraine.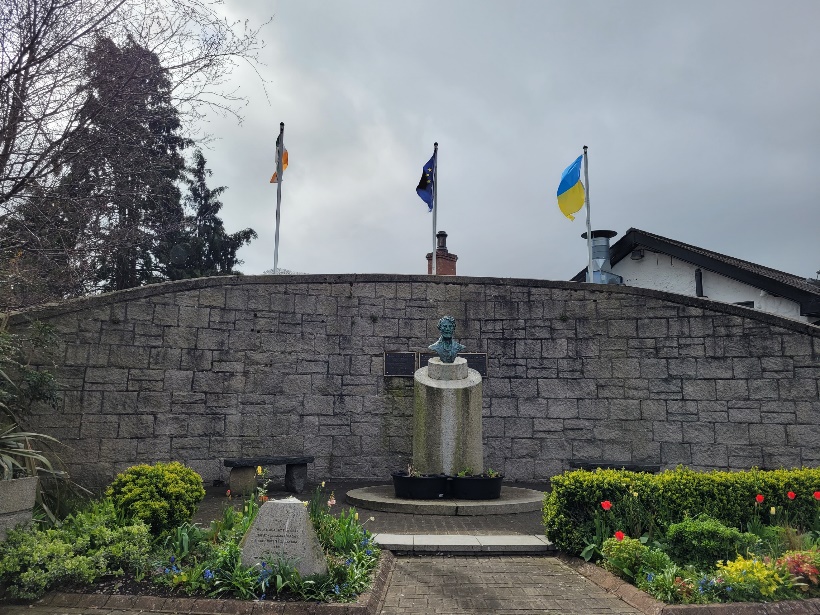 Tiktoking Round the Tholsel
The Carlingford Heritage Centre worked with local schools' primary schools Muchgrange NS and St. Oliver's NS and the Bush transition year group on a new history and heritage focused project. We provided workshops on history, heritage, with the main theme of bullying to three schools. We had great engagement from the students during these workshops. Following on from our facilitated workshops, the students created short stories, scenes and other creative works focusing on the topics of bullying, inclusion, and exclusion. The project focused on the Heritage Building in Carlingford, "The Tholsel". The student's work was displayed in the Heritage centre, the small exhibition will also be on display from April 12th to Good Friday and open to any families who wish to drop in and see the children's work.
On March 12th, we curated a piece of immersive of street theatre focusing on the Tholsel building. The actors took the audience back in time to 1422, from there we followed the tale of Paddy the Pirate and Widow De Brun. This fun piece of street theatre was engaging and entertaining. The project was all part of the St. Patricks Festival, sponsored by Tiktok. The sun came out for our three performances. We had great support on the day from local business, students from St. Oliver's Ns and their teacher Ms Crossan, GSD school of Drama's young performers, and the community. A big thank you to Gerard Quinn and Gerard Hoey who constructed a portcullis at the Tholsel building and all the team, staff and volunteers who volunteered their time on the day at the Heritage Centre.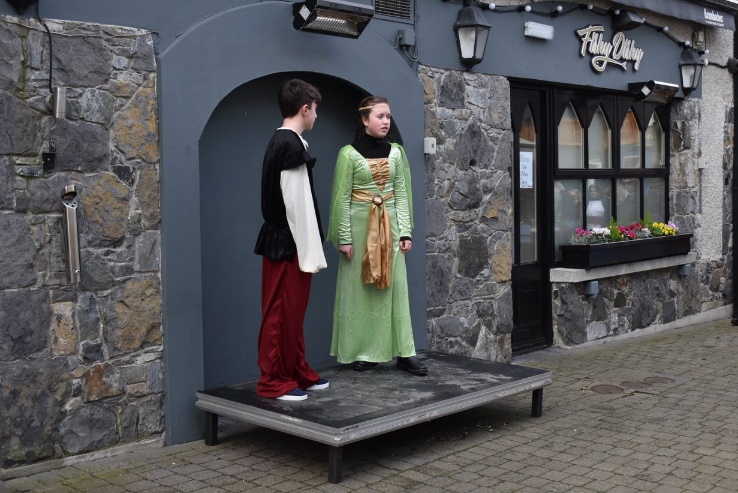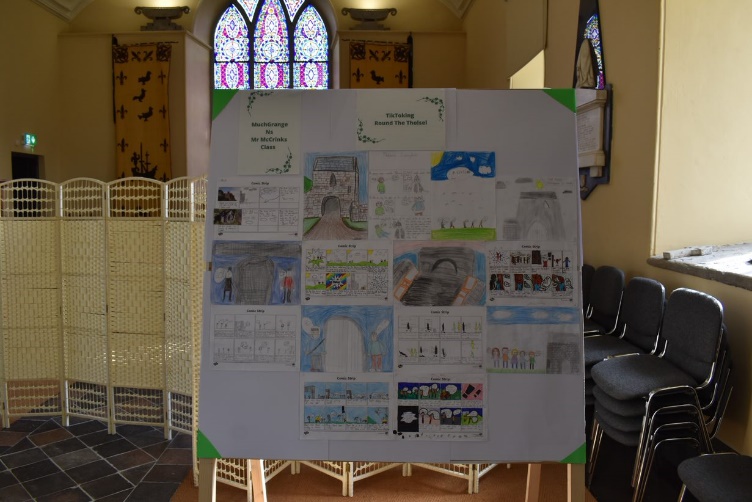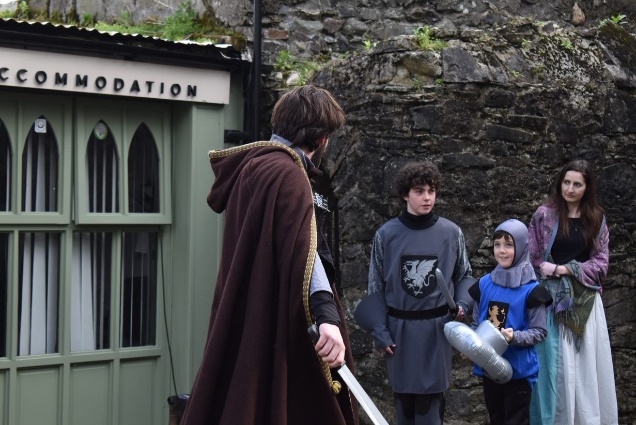 Louth Live Performance Programme April – June 2022
Carlingford Heritage Centre are delighted to announce a series of concerts in April, May and June as part of Louth County Council's 'Louth Live Performance Programme'. We will be presenting some world class artists to our audience in Carlingford and environs, revelling in the joy of live performance again after such a long Covid-enforced silence. Our concerts are part of an initiative by the Department of Tourism, Culture, Arts, Gaeltacht, Sport and Media to allow the live music and entertainment industry to get back to bringing their music to audiences, bringing audiences to their feet, and also allowing people to attend these special events for free! Bringing music back to where it belongs! We are starting our series with a classic performance that we have been hoping to arrange for quite some time. It brings together three internationally acclaimed artists combining voice, cello and piano; 'Airs and Arias', featuring Gavan Ring, Davide Forti and Francesca De Nardi on Sunday 24th April at 4pm.