Carlingford COMMUNITY NEWSLETTER
SEPTEMBER 2021 EDITION
Carlingford Community Newsletter NO. 89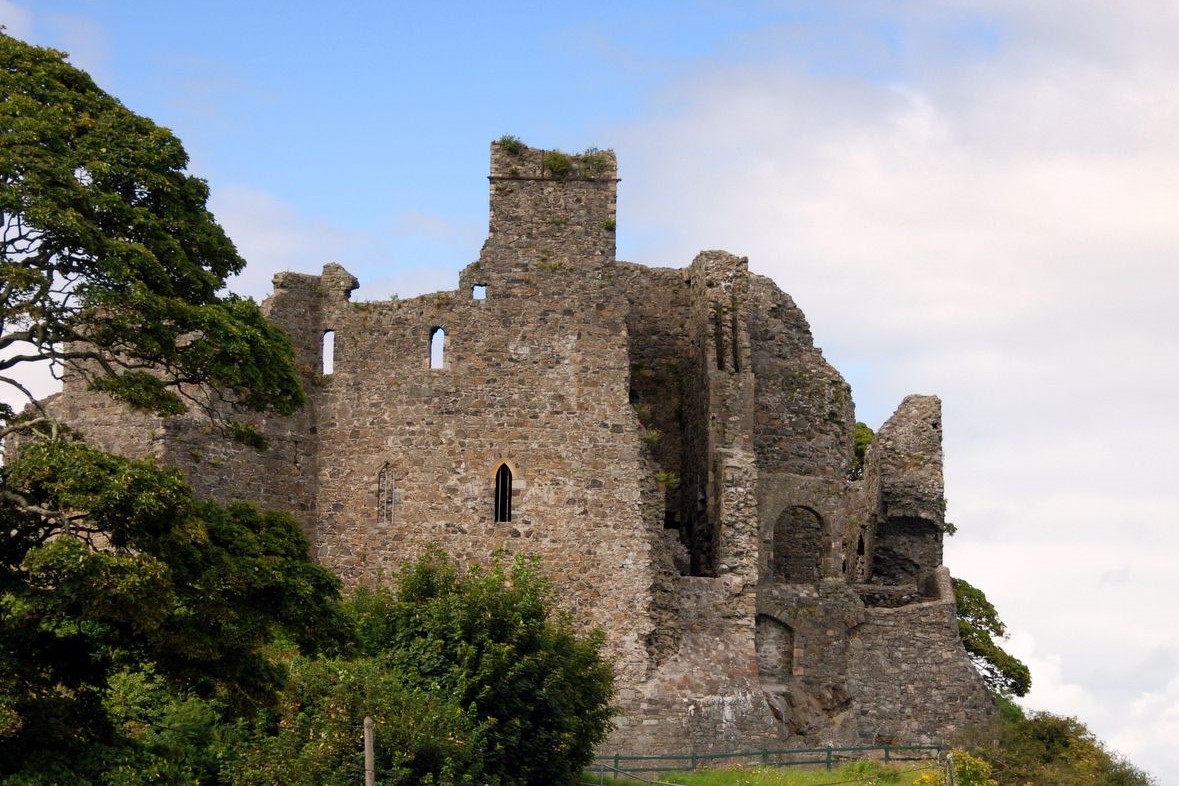 This newsletter is jointly produced by the bodies representing the Carlingford Community, namely:
Carlingford Lough Heritage Trust CLHT
Carlingford & Cooley Tourism Assoc. CCTA
Carlingford Traders Association CTA
Carlingford Tidy Towns CTT
Carlingford Community Development CCD (The Foy Centre)
Carlingford Residents Association CRA
Carlingford Community Forum News
Fáilte Ireland together with Ireland's Ancient East, Louth County Council and Repucon presented Carlingford Vision '31 draft plan to local tourism providers on Tuesday 21st September. The purpose of the plan is to develop a sustainable tourism product for the peninsula. The success of the plan when adopted will require buy-in from all stakeholders in the area. There are examples of how this approach has benefited areas along the Wild Atlantic Way and the hope is to emulate best practice. A steering group has been set up to further this initiative and there will be continued engagement over the coming months and years. The initiative has been described as a huge opportunity for the peninsula.
The Streetscape Enhancement Scheme is currently being administered by Louth County Council. An expression of interest was submitted by the Forum on behalf of those who wish to be part of the initiative. Further engagement will be through Louth County Council.
The Digital Bakery, working on the Carlingford.ie website ran its first training session for businesses on the peninsula on Monday 27th September in the Heritage Centre. Further sessions will be organised either on Zoom or in the Centre depending on demand.
Carlingford Community Development (The Foy Centre)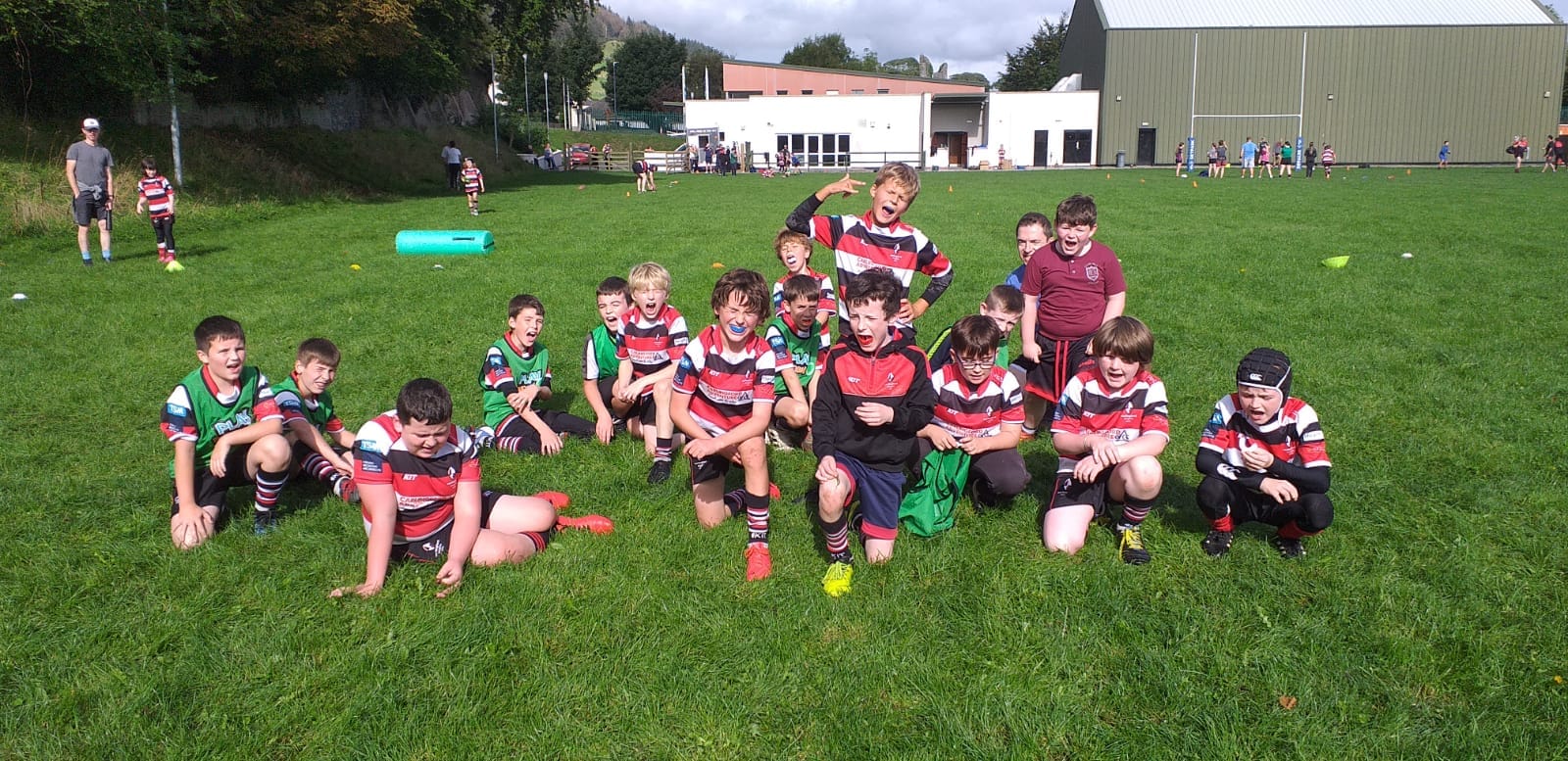 It has been a busy month for Carlingford Knights with both mini rugby and youth rugby sections back up and running. We have welcomed many new players
and our mini section continues to grow.
At youth rugby we have now an under 15s and under 13s boys' section, and on Sunday we played our first ever under 13s game away to Navan. On the same day our under 15s welcomed Ashbourne at the Foy Centre.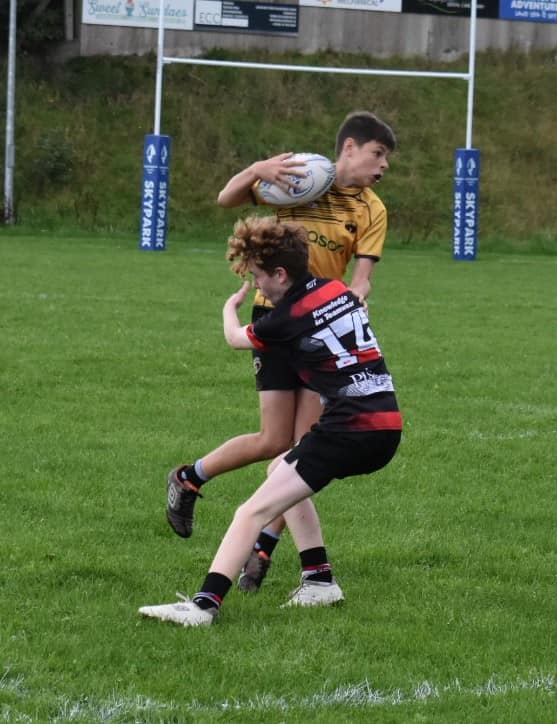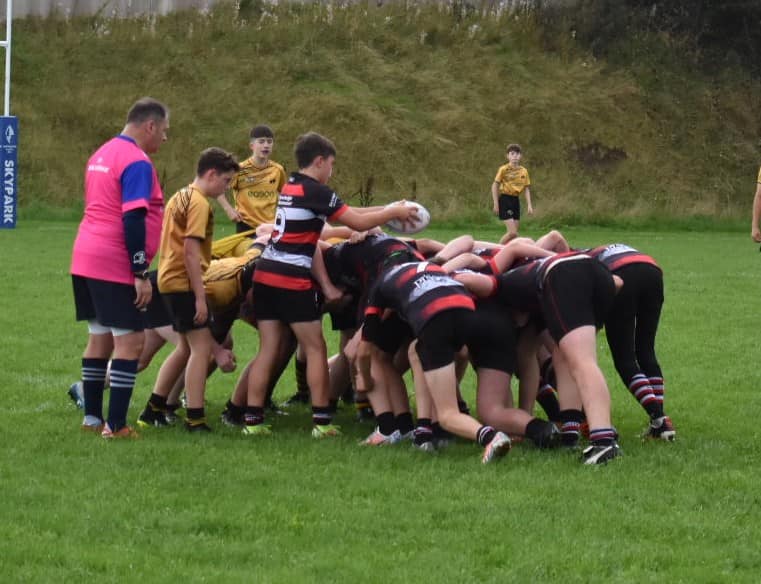 The under 15s sit mid table so far in the North Leinster league. We have a break in action for a few weeks, until we play Skerries away for the under 15s and North Meath at home for the Under 13s.
Our girls section recently concluded our 'give it a try' rugby programme where we had 20 girls out training. We continue to develop the girl's section and we hope to play our first youth girls' game in the new year.
Carlingford Lough Heritage Trust

Station House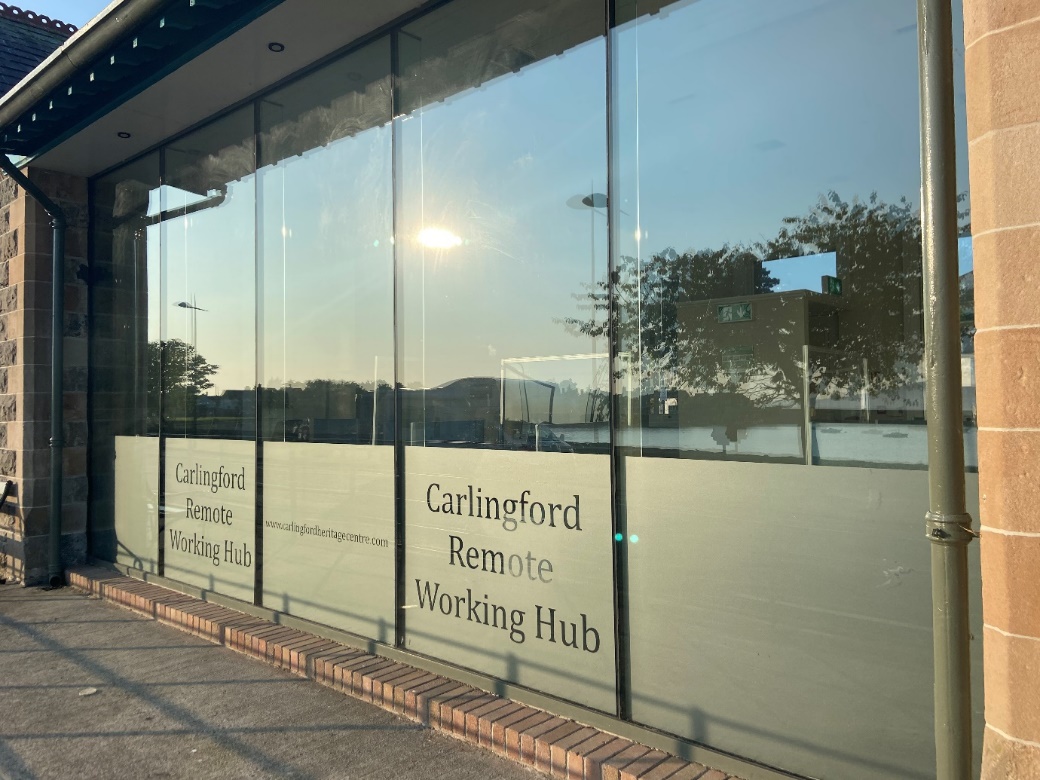 We hope that all the school children had a good return to school. You can tell that everyone is back – it's definitely a bit quieter in the tourist office, although the weekends continue to be busy and we're kept ticking along during the week. We would like to take this opportunity to express our gratitude to all the sponsors of Carlingford Tourist Office, which enabled us to provide a seven-days-a-week service for the four months of June, July, August and September. In addition, a big thank you to Teresa who's been doing a great job holding the fort there Monday to Wednesday and to our volunteers, Anne, Denise, Rosalyn, Roberta, John and Gerry Mc Alinden who staffed it from Thursday to Sunday every week. We're delighted to see the Carlingford.ie website revamped and up and going. If you haven't checked it out already, do so – it looks really well. Whilst it's definitely been added to, we're happy to see that the original logo has been retained – a clever design incorporating the Brown Bull of Cooley and ancient Gaelic motifs – a perfect fit given our association with An Táin Bó Cuailgne as well as Fáilte Ireland's branding for the Ancient East.
Also on a tourism note, we're looking forward to giving an online talk on October 1st to Bush Post Primary's Transition Year students about tourism in Carlingford and Cooley and also about jobs in hospitality and tourism – definitely an important sector in this area!
Despite the fact that many people are returning to offices in Dublin and elsewhere, we're getting regular enquires about the Remote Working Hub – ideal for those who want to avail of high-speed broadband and an inspiring working environment when they aren't commuting. We were delighted with the new signage provided by Iconic, who did a fantastic job. A massive thank you to our sponsors who contributed: Carlingford Oyster Company, Viewpoint Accommodation, and Carlingford Marina Apartments, all of which boast stunning views themselves.
Carlingford Heritage Centre
We continue to be busy with tours of Carlingford Castle (daily at 3pm) and of Medieval Carlingford (Mon to Wed at 11am). We also had our pop-up combo of the Castle Tour and Ghan House Taster Experience, which has been a big hit this summer. We're offering it on two dates in October – Saturday 9th and Saturday 16th (minimum of six people). Enjoy this opportunity to tour inside King John's Castle and then savour a taster plate of delicious local artisan fare at the beautiful Georgian property of Ghan House. During Heritage Week this year, we launched our Holy Trinity Graveyard Tour and are delighted to be offering it again on Saturdays, October 9th and October 23rd. Don't miss this opportunity to discover the fascinating and poignant stories behind the headstones here on our doorstep. For more info about our different tours, contact us at info@carlingfordheritagecentre.com and 042 93 73 454.
During the month we had a visit from John Creedon of RTE for an afternoon of filming at the Castle for Creedon's Atlas of Ireland so that's something to look
forward to whenever RTE chooses to air it. It looks like they got some nice drone footage of the mountains, town and waterfront.
There's been lots going on in the Heritage Centre itself with visitors popping in daily to enjoy the mural of medieval Carlingford, the Hugh Moore stained-glass window and the exhibits along with an excellent 18-minute audio-visual 'The Ages of Carlingford'. As many of our visitors have said, "the best value for €2 around!"
As well as that, Sheila, with Gerry's help, has been busy hosting weddings – three, since the last time we wrote up the newsletter. Heartfelt congratulations to the three happy couples.
In addition to this, we held the first of our six concerts of the Autumn Series, with the legendary Andy Irvine kicking off the season on September 19th to a full house. After the strict Covid-19 regulations of the last 18 months, it was extra special to experience live music in the Centre once more. The following week we were privileged to have Steve Cooney and Dermot Byrne in house, again to a packed audience. The fact that we are limited to 60% of our usual capacity make the concerts even more intimate than usual. We're looking forward to the remaining four Sunday afternoon concerts, listed in the poster below. We recommend booking early for the to avoid disappointment, which you can do online: @www.carlingfordheritagecentre.com.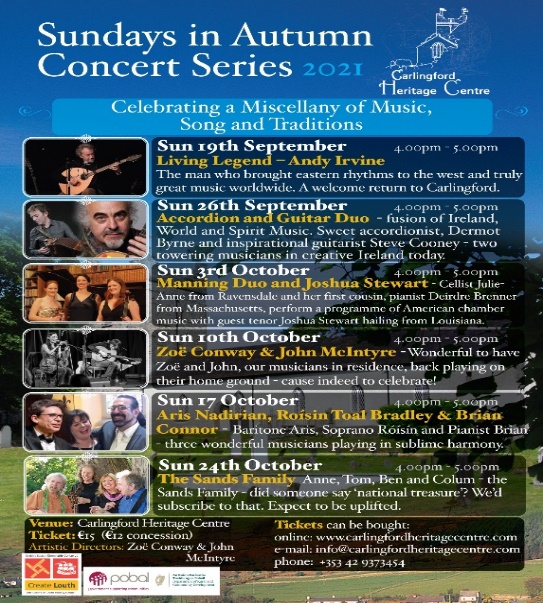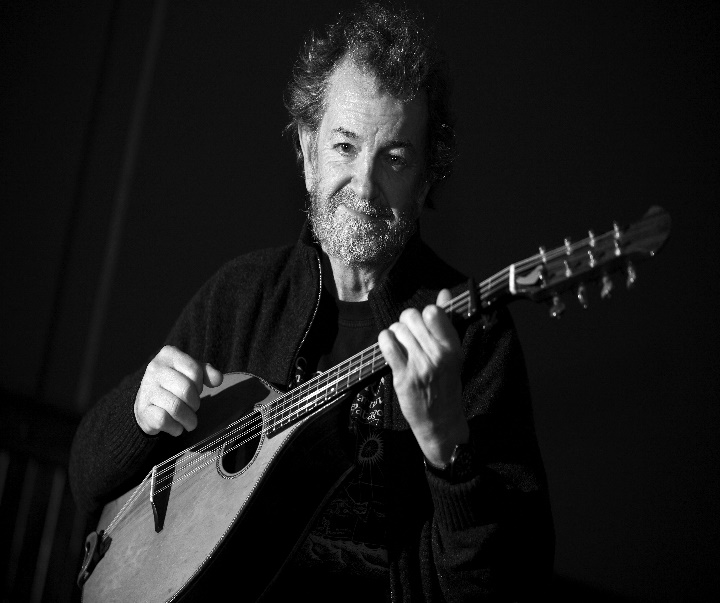 SOLD OUT
Another big occasion to take place this month was the launch of the video directed by Séamus Murphy with funding allocated by the Heritage Council of Ireland. The 15-minute video celebrates the minor place names of the Cooleys and refers to how the Irish language, and the ways and customs of the local people have shaped the place names. The 'premiere' was held in Carlingford Heritage Centre on Friday September 24th. Due to Covid 19 regulations, numbers were restricted and thus invitations were issued to those involved in the production of the video and to Carlingford Lough Heritage Trust members. Congratulations to Séamus and his team, including Daniel from Lightstorm Media Productions, who finished the project well ahead of the Heritage Council deadline. Again, we would like to thank the latter for their support of the project.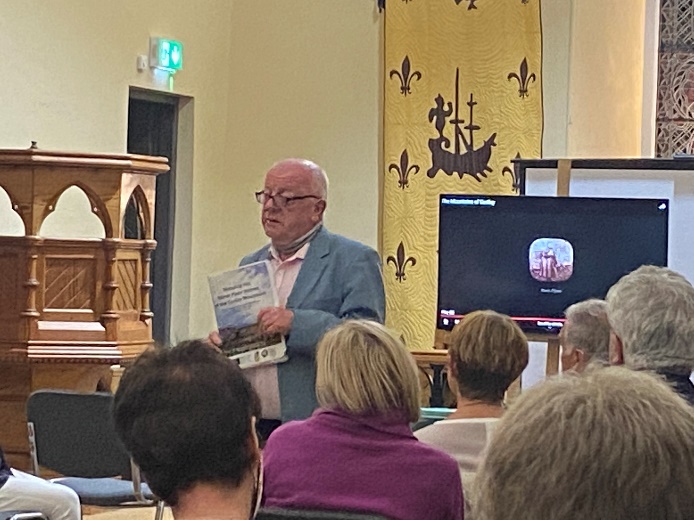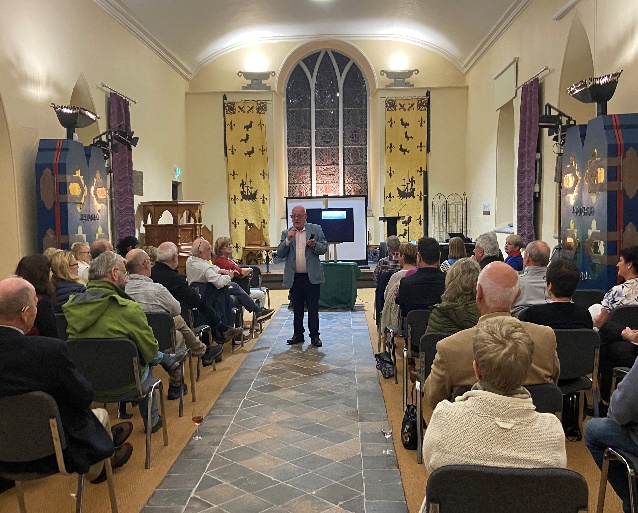 We thought you'd enjoy looking at this appeal for ideas for Carlingford's tourism development dating back to 1943. Prize money: five guineas! We wonder what the Committee would have made of Carlingford's current Mini-Master Plan! Many thanks to John Woods who provided the copy. He remembers his father, Peter Woods, who was secretary telling him about some of the more eccentric ideas put forward. What would be your suggestion?!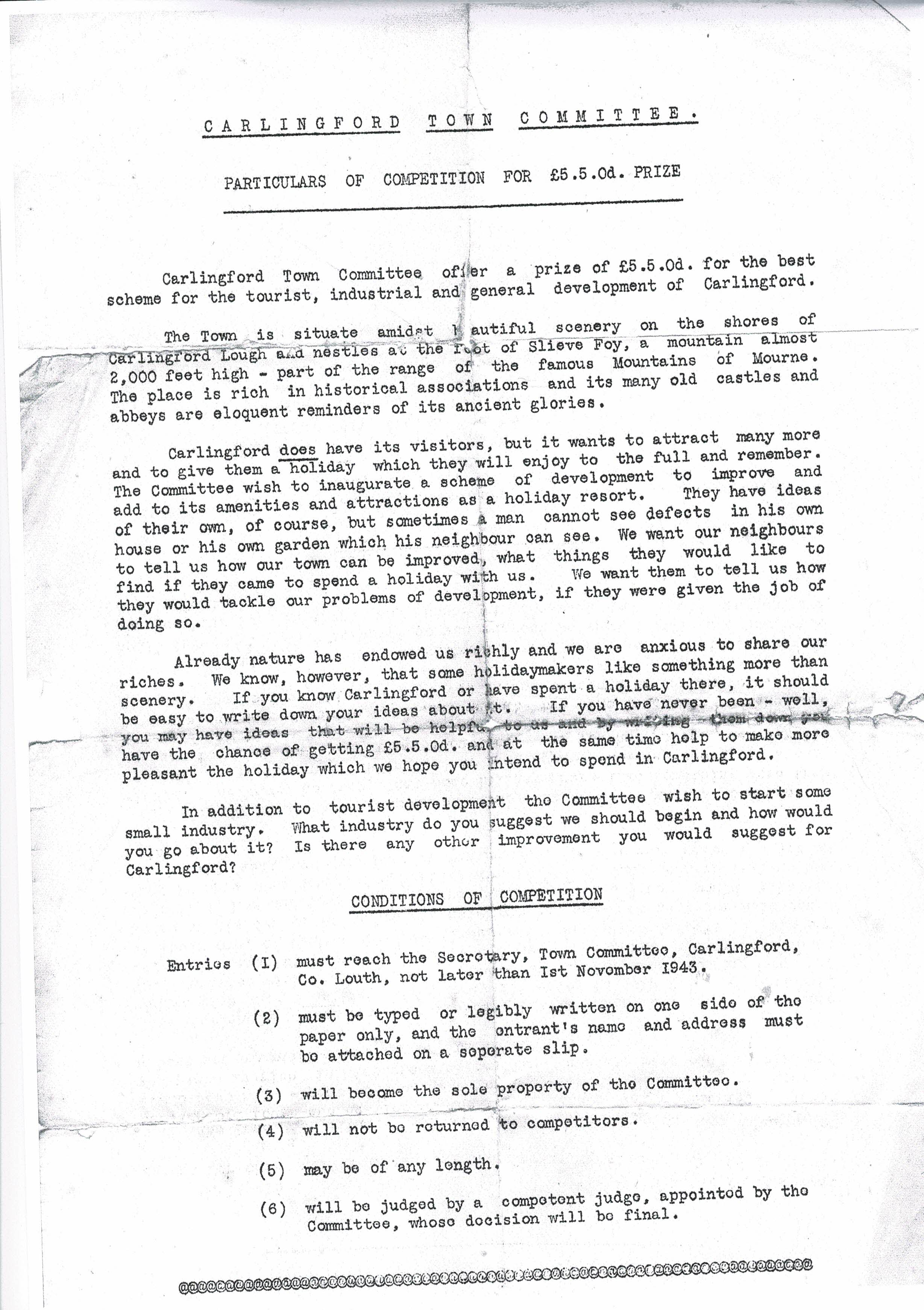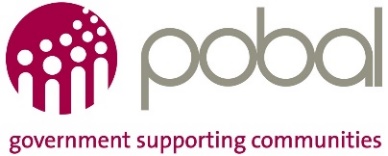 "This project is supported by the Department of Rural and Community Development and Pobal through the Community Services Programme".
Carlingford Tidy Towns
FUNDRAISING
Our fundraiser for Tidy Towns Projects is going well. Thank you to recent sponsors Keenan Oyster's for their generous donation. If you would also like to contribute, please visit:
https://www.gofundme.com/f/carlingford-tidy-towns-projects-2021
RECENT PROJECTS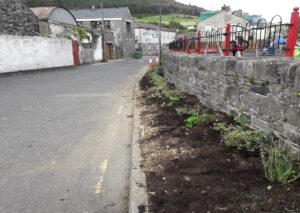 We have recently painted the railings in the playground, added perennial planting to the flower beds at the Castle Steps and the Tholsel Gate. A new flower bed has been added on Old Quay Lane to the rear of the playground. In the coming weeks we will add more planting to the Village Green and Fair Green Carpark areas, and will be planting Spring Bulbs. If you would like to volunteer to help plant on Tuesday or Wednesday mornings Tel 0429373686.
STREETSCAPE FREE PAINT INITATIVE
Have you a property on Dundalk Street, Newry St or Castle hill which needs painting and has not been recently painted.
If so you can apply for free coloured paint to brighten the streetscape through a grant we have secured from the Council, through Tidy Towns project grant. This is a small grant suitable for small scale projects i.e. painting of windows, doors and masonry walls which façade onto these streets. You must be in a position to carry out the painting or employ someone to paint. Paint will be provided free of charge to those who apply and are successful.
To apply Tel 0429373686 to get an application form.
PAINTING CHURCH RAILINGS
Parish volunteers have been painting the metal railings at St Michael's Church. Great progress has been made by a combination of parish and tidy towns volunteers this week. If you would like to volunteer to help complete the job, please contact Julie on 0876394889
THE BIG BEACH CLEAN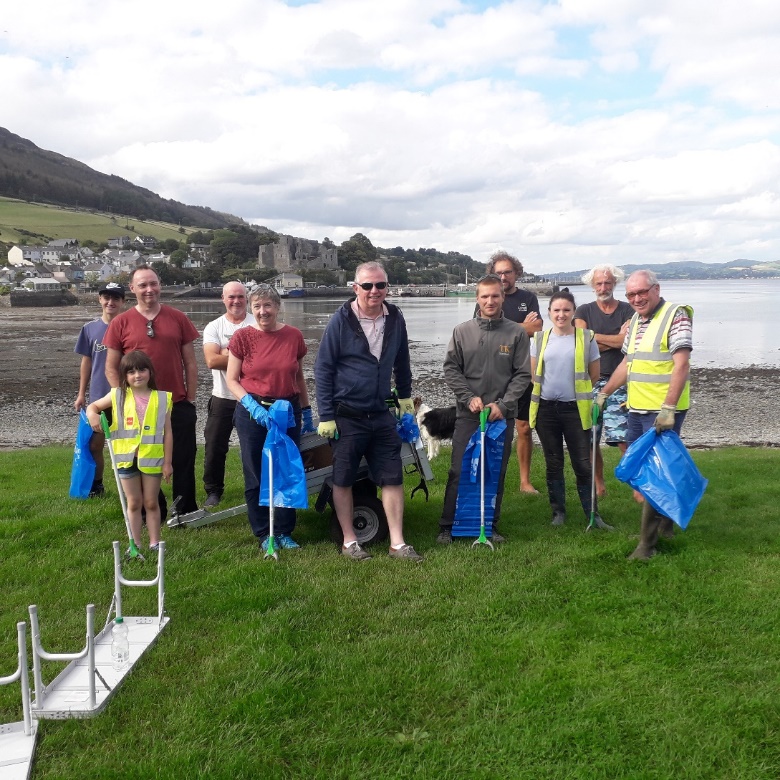 The Big Beach Clean was a Clean Coasts event. Local Oyster companies-Carlingford Oyster Company, Keenan Oysters and Cooley Oysters attended along with Bord Iascaigh Mhara and Carlingford Tidy Towns volunteers. Marine litter was removed from the shoreline.