The Cadgers' Pad by Séamus Murphy
'Cadger' is a term for pedlars, hawkers or mongers which has been traced to the 14th century: travelling fish sellers were known as cadgers in the Mournes and west Donegal within living memory. 'Pad' signifies 'path'. The Cadgers' Pad is a route across the Cooley Mountains to Ravensdale and Dundalk which was used for centuries for the transport of herring to market. The Carlingford Lough herring fishery was massive in the 19th century, employing almost 300 people in the small community of Omeath according to a government report in the 1830s. The fish were carried to Dundalk by a column of young women and girls, each carrying a creel with about two stone (13kg) of herrings wrapped in seaweed.
In the 1860s the 'Cadgers' Road' was considered to be important enough to be marked on the revised Ordnance Survey maps issued by the Griffiths Valuation survey.
The industry declined in the 1860s as the herring migrated from the Lough towards the Isle of Man. One young woman was photographed at the Ravensdale end of the trail in 1888. Annie Flynn became known as the Last Cadger.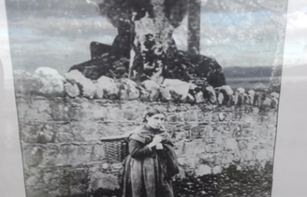 The route remained important for Omeath people with something to sell even after the fish were gone. The last Irish speaker in the Omeath Gaeltacht, Annie O'Hanlon, told a Folklore Commission collector in 1957: "It wasn't unusual in the old times, when I was young, for a woman or a girl to throw a bag of hens on her back and walk from here to Dundalk over the mountain—out the Cadgers Pad—to sell them: that would be at Christmas time. That was common."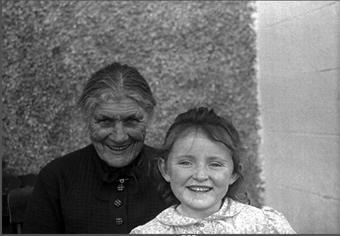 Annie O'Hanlon with grand-daughter, 1957