Carlingford COMMUNITY NEWSLETTER
MARCH 2021 EDITION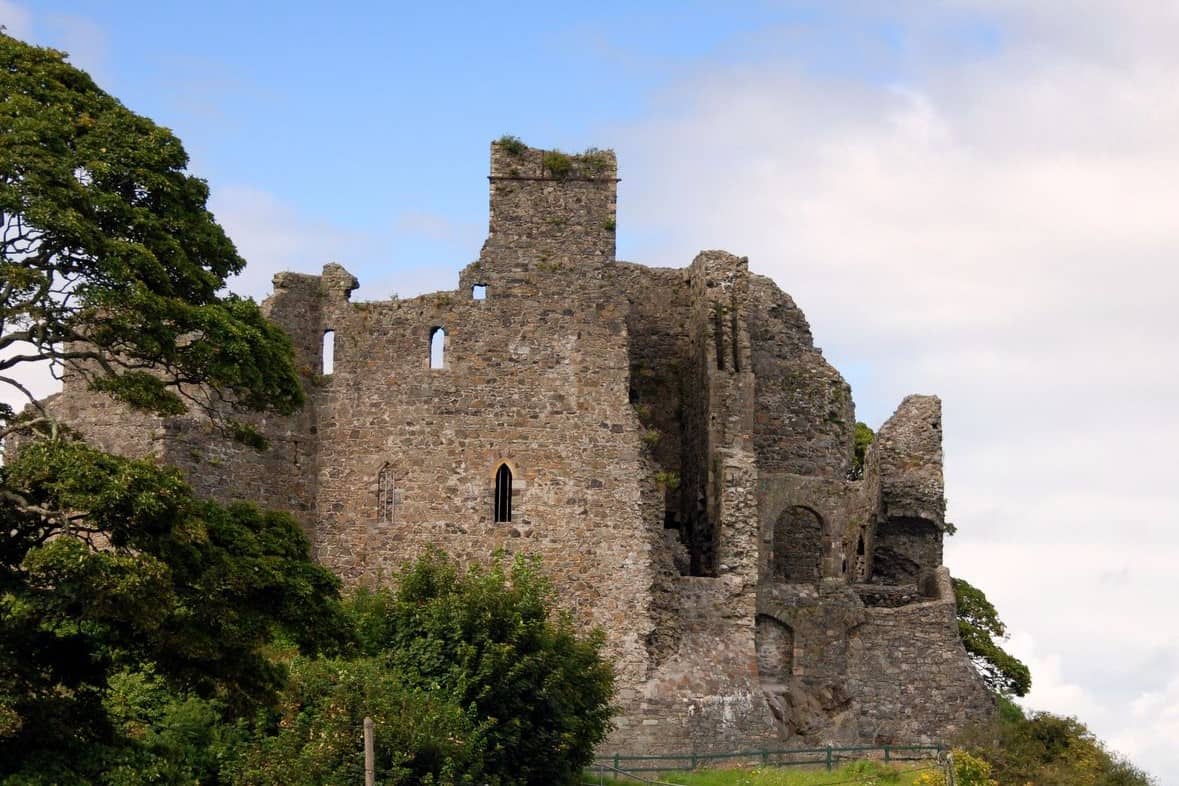 This newsletter is jointly produced by the bodies representing the Carlingford Community, namely:
Carlingford Lough Heritage Trust CLHT
Carlingford & Cooley Tourism Assoc. CCTA
Carlingford Traders Association CTA
Carlingford Tidy Towns CTT
Carlingford Community Development CCD (The Foy Centre)
Carlingford Residents Association CRA
Carlingford Community Forum News
The closing date for tendering for the consultancy on the Rural Regeneration Fund Project 2020 was March 24th 2021. We should hear the result of that process from Louth County Council in the near future.
Some of the Forum organisations are working on enhancing their members presence on social media platforms. This will help with marketing when lockdown is lifted. See elsewhere in the Newsletter for details of an initiative by Carlingford Heritage CLG.
Carlingford was represented at the following webinars and conferences:
March 2nd Innovating Communities: Louth Local Launch.
March 10th Post-Brexit Conference.
March 24th A.M. Launch of the Dublin Belfast Economic Corridor.
P.M. Tourism Ireland Marketing.
March 31st Fáilte Ireland, Consumer Insights to Drive Domestic Demand and Spend.
Keep safe everyone!
Carlingford Community Development (The Foy Centre)
LOCKDOWN CONTINUES, hopeful of training back soon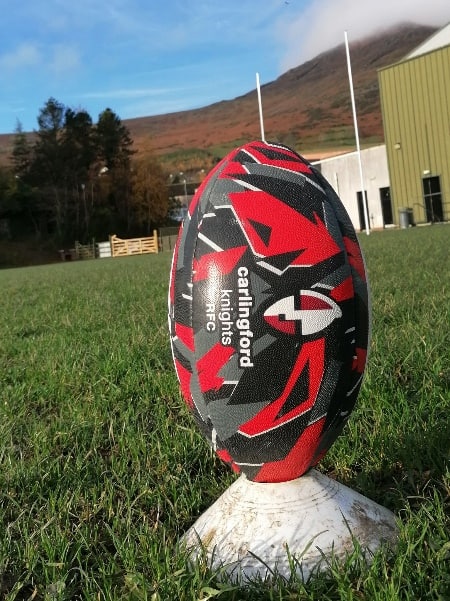 It's hard to believe the Foy Centre pitch has now been all quiet since just before Christmas when we had our last mini and youth training session.
Lockdown has been tough for us all, we all do miss the fun of seeing our friends at training not just the players, but the coaches as well!!, the club has been a fantastic outlet for us throughout this pandemic, our attendance through the cold winter months up to Christmas was fantastic, we had some age groups like the under 7s with over 20 players each morning, and the under 14s regularly with 25 plus, even when we decided to take them out to Templetown beach in a gale!!
In the meantime, We have been enjoying guess the 6 nation scores for the Ireland matches and the players have been posting the scores with various spot prizes, the coaches also have a separate league table that has been getting quite competitive!!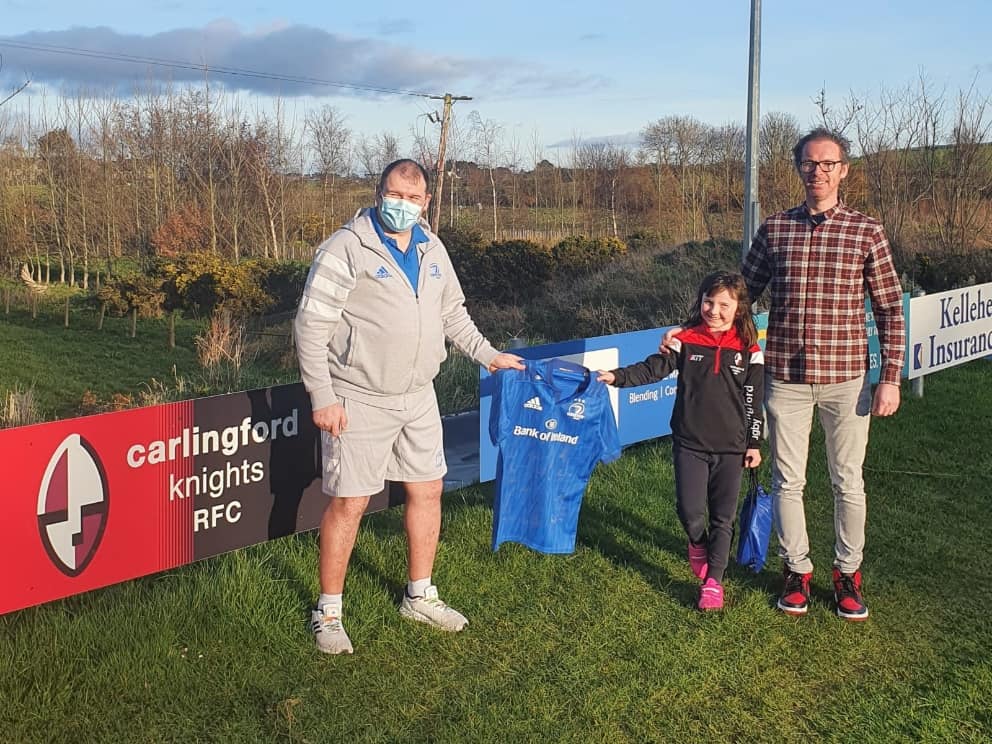 One of our players Peaches Savage from the under 8s won a signed Leinster Rugby Jersey  when she entered a Leinster North east competition, the players had to make a video and peaches and family put together a video of her drop kicking a rugby ball in to a wheelie bin!! Well done from all the club.
The IRFU have told us the season can run into early summer (when we move out of level 5 restrictions) and we all look forward to getting back onto the pitch.
Until next month when we hopefully have some better news and clearer plan for our season.
Carlingford Lough Heritage Trust

Carlingford Lough Heritage Trust will host a tourism facility in the Station House to support

the reopening of Carlingford & the Cooley Peninsula following lockdown.

The facility will provide:

1.  An information point for visitors or potential visitors to the Cooley Peninsula including

details on tourism providers, activities and services available, a dedicated phone line

And high-speed broadband.

2.   A meeting point for guided tours to the surrounding area and to Carlingford Castle.

3. A display of crafts and products available locally with contact details.

4. A business desk for 'Meet & Greet' when required by local providers.

5. Advertising board. – As well as a super-bright led digital advertising screen.

Market research can also be carried out, including an audit of available facilities and

services to create a database.

If you are interested in supporting this initiative and require further information or to

register your business please contact 0429373650 or email
Music Events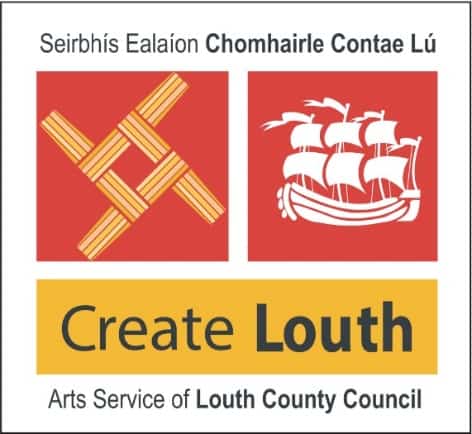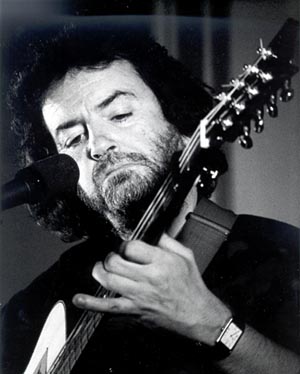 The itinerary for the Autumn concerts is as follows:
19th September Andy Irvine
26th September Steve Cooney & Dermot Byrne
3rd October Zoe Conway & John McIntyre
10th October Manning Trio
17th October Aris Nadirian, Roísin Toal Bradley &
Brian Connor
24th October The Sands Family
Carlingford Heritage Centre Spring Talks Series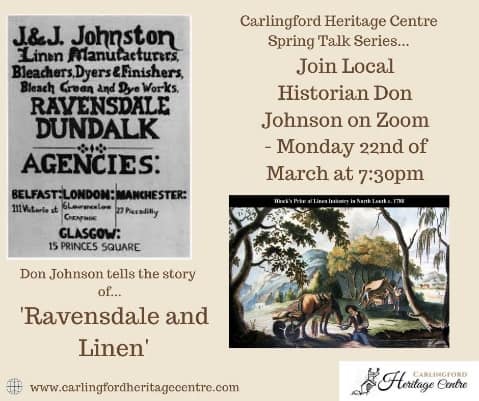 Well, we have been overwhelmed by the response to our talks so far this month. We had a great talk on the development of the linen industry in Ravensdale by well-known historian, Don Johnston on 22nd March. Then on Monday 29th March, we had a very informative nautical talk by member, Richard Lewis of "On Year Bike" hire on the Life and Times of the Crete Fleet- 64 concrete ships which were built towards the end of World War 1 when steel was in short supply. We have one of the ships in Carlingford Marina which is what inspired Richard to pursue the story of the entire fleet as his lockdown project and he has now written a book on the subject! If you missed either of these, we have a recording available and details are posted on the website under events.
And so, we have some more speakers lined up before everyone abandons zoom for summer evenings and the outdoors!
Monday 19th April @7.30pm we welcome back Dr Paul Gosling (GMIT) who is no stranger to Carlingford and who will take us on a journey of "Mapping the Táin".
Monday 26th April @7.30pm We are pleased to be joined by Brian Larkin who will entertain us with his story of the Railway and Greenore
Monday 10th May @7.30 pm we offer the Curator's Choice when Brian Walsh of the County Museum will take us on a tour of some of his favourite objects in the collections and tell us why he finds them so interesting.
Watch out for another date to be advised when Seamus Murphy may take us for a final virtual ramble to prepare for 'actual' hiking with his popular "100 things to see in the Cooley Mountains."
"On Yer Bike" opening in Strand Lane
We wish our tenant Richard Lewis the best with his venture to open a bike shop in Strand Lane. Richard hopes to have us and many visitors biking the byways of Louth, Down and Armagh in the coming years and will be promoting all the benefits of starting from Carlingford. He will be selling the latest models of ebikes so there is no excuse for those who find our hilly terrain challenging. Cycling for softies is here! Richard hopes to open in mid-April restrictions permitting.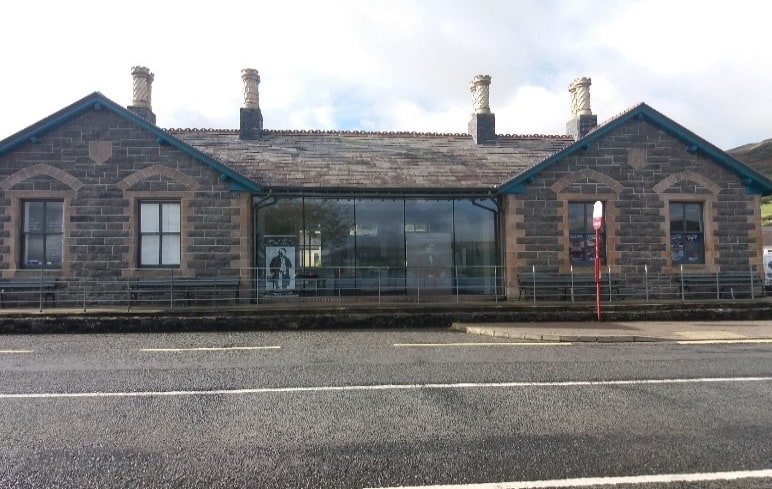 Station House Remote Hub due to open summer 2021.
We are developing a new service for the community which we think will be of great benefit to people tired of commuting or working alone from their kitchen tables. In the Station House Hub, you can enjoy a pleasant open plan environment with comfortable workspace, reliable Broadband and the opportunity to meet others. Remote hub working is proving popular in small towns throughout the country as people recognise the value of having a work space near but separate to where they live while companies recognise that allowing people to work closer to where they live leads to happier employees.
The Hub will suit:
Commuters who want an office base to reduce commuting
People who want an office outside the home
Freelancers /small businesses looking for office space
We offer
High speed Broadband
A dedicated desk space socially distanced
A business address
A communal space for coffee/chat
Printing facility
Plus, The Heritage Centre as a venue for large meetings/training/ workshop and exhibition events
Interested? Or do you know others who may be? For further information and to discuss options, call
Tel 042 9373454 or email info@carlingfordheritagecentre.com
Tales from local Heritage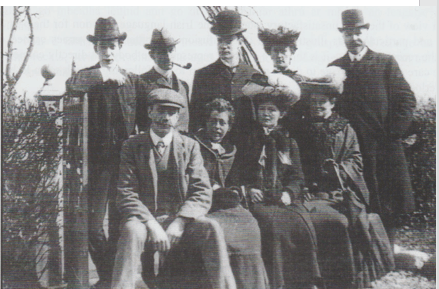 EXCITING TIMES IN OMEATH
This fashionable group was snapped at the entrance to the Strand Hotel in Omeath in the summer of 1905. They represented a slice of the elite of Conradh na Gaeilge (The Gaelic League) from north and south. In the centre is the dashing, bowler-hatted young barrister-at-law Mr Patrick Pearse of Brunswick Street, Dublin. Second to his right wearing the homburg is his younger brother, Willie. On Pearse's left we can see Miss Eibhlín Ní Niocal (Nicholson) and yes, we can confirm that the two are romantically entangled; Eibhlín is Patrick's girlfriend.
Omeath was a great favourite with Conradh na Gaeilge in the early part of the 20th century. It was the only Gaeltacht in the eastern half of the country where most of the members lived and it had a rather handy railway running through it, so it could be reached from Dublin or Belfast in a couple of hours. That was why it was chosen for the League's first great educational experiment, a summer college to train Irish-language teachers for the national schools. They managed to secure a large house for rental, Omeath Park which was in probate, and a celebrity to head up the college, Professor Eoin MacNeill. They began enrolling students for Coláiste Bríghde in 1912, just as the UVF were running guns into Larne (and a smaller consignment into Narrowwater).
Things got tricky in the summer of 1914 when Europe went to war and the bulk of the Volunteer movement, set up to oppose the UVF, rallied to the imperial flag. The remainder organised as the Irish Volunteers under MacNeill's leadership, but that movement and the Gaelic League were increasingly being manipulated by the IRB (Irish Republican Brotherhood). Within the IRB a new young leader was coming to the fore – our barrister now turned teacher, Mr Pearse. They intended to organise a rising using the Volunteers at some point during the war, and by the start of 1916 most of their plans were in place.
There was a small problem: James Connolly. Down in Liberty Hall on the Quays he had his own armed military group, the couple of hundred members of the Irish Citizen Army drawn from trade unions and socialist organisations. Connolly was openly talking about doing a little rebellion of his own and this worried the IRB: that sort of talk could lead to a crackdown and disrupt the larger outing they were planning for Easter.
At some point at the beginning of March 1916 Connolly disappeared; nobody saw him around Dublin for three or four days. Then he turned up in – yes, you guessed it – Omeath. There was a big céilí night in the college and MacNeill was there and so was Patrick Pearse– "him with the bad eye," said an observant young serving girl working in the college. During the Haymakers' Jig she also noticed "a wee fat Scotchman".
According to Omeath legend, what they were doing was putting the final touches to the Proclamation, which was a sort of marriage contract between the Volunteers and the Irish Citizen Army. There is a bit more social policy in the text than Thomas Clarke was likely to be happy with, while Connolly and his socialists had to accept the leadership of what they regarded as bourgeois nationalists.
The ownership of Omeath Park was finally settled in the Probate Court and it became the Park Hotel. Eibhlín Ní Niocal died in a drowning tragedy off Blackrock, Co. Dublin in 1915. So where was Connolly for those three or four days? We don't actually know, but our money is on a cowshed somewhere in Glenmore where he was given a chance to consider his options.
Submitted by Séamus Murphy, Committee Member.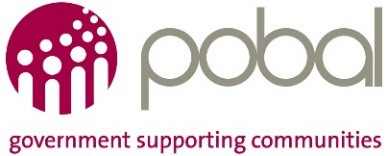 "This project is supported by the Department of Rural and Community Development and Pobal through the Community Services Programme".
Carlingford Tidy Towns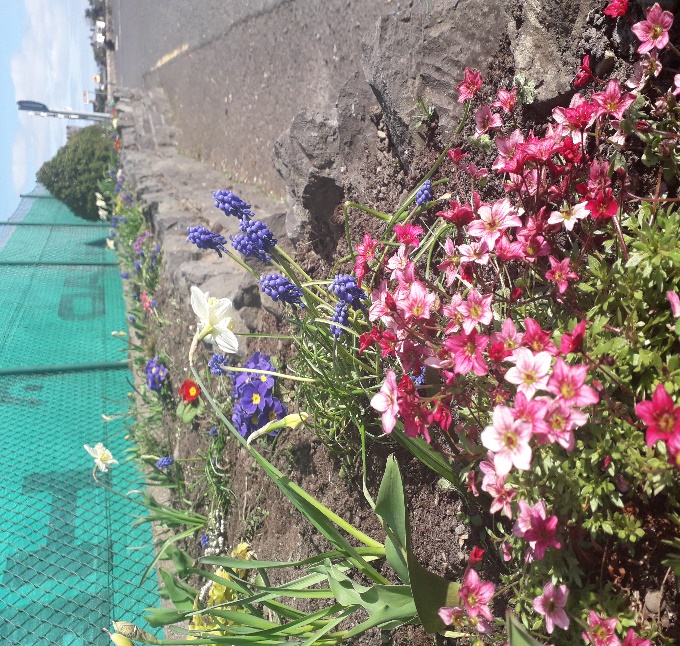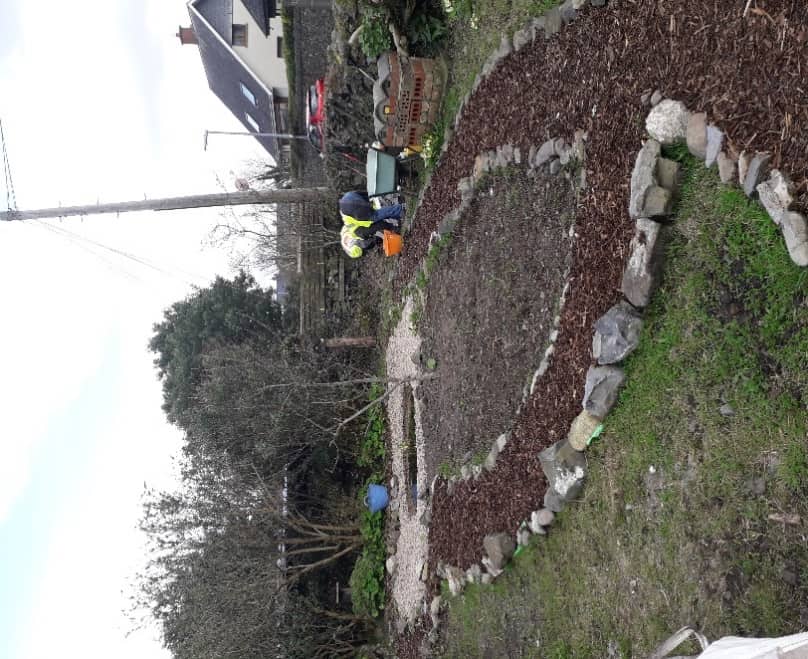 National Tidy Towns Competition
The competition in 2021 is proceeding and will soon be launched. All judging will be online this year. We will need to include lots of before and after pictures as judges will not be visiting Carlingford. It will be judged remotely. We need to include a small video of the projects.
Tennis Courts planting project
The tennis courts are now in bloom with bulbs (Muscari, Tulips and Daffodil) planted last Autumn. We will plant additional summer perennial planting in the coming weeks. We purchased plants with our winnings from The Louth Looking Good competition. The Spring Primroses, Heathers, purple Aubrietia and blue Muscari all look well.
Walled garden project Ghan rd.
We have added a flower bed, veg plot and fruit garden. Enhancements have been made to the pond and path. We hope this area can be an example of how you can have a productive edible wildlife friendly garden.
Dundalk Street Estate
We worked with Residents of Dundalk street in the last few weeks to enhance the communal space by cleaning the paving, planting a pear and cherry tree and the Residents painted all the walls. It looks absolutely fabulous! They are planning on adding a little flower bed and planters.
Grass cutting
We have started cutting some of the small grass areas in town in and around Fair green Car park and the beach at the Anchor. We hope to purchase a ride on mower if our application for funding is successful. Unfortunately the Contractors who did such a good job for the last few years are unable to continue due to Covid 19.
Dog Fouling and illegal dumping/littering

There have been many complaints about a small number of owners not cleaning up after their dogs and allowing dogs to 'roam'. Please keep your dog on a lead in public spaces and scoop the poop. The council recently put stickers on the bins to remind people. If you want to report a dog out of control you can do so by phoning The Dog Warden. You can report littering and illegal dumping to The Litter Warden. Both contacts are available on the Louth County Council Website.
FAO RESIDENTS GROUPS
If you have a Biodiversity project in mind please get in touch before 4th April with an outline of the project and its estimated cost. We can apply for funding under Tidy Towns Project Scheme on your behalf. Please note this can only be used for future projects where no purchases have yet been made. Phone 0429373686.
Amenity Grants are now out. You must apply for your Residents group or community group before 16th April. You will need a bank account for the group and a tax clearance certificate or tax registration number to apply.
https://www.louthcoco.ie/en/services/communities/funding/amenity-grant-scheme/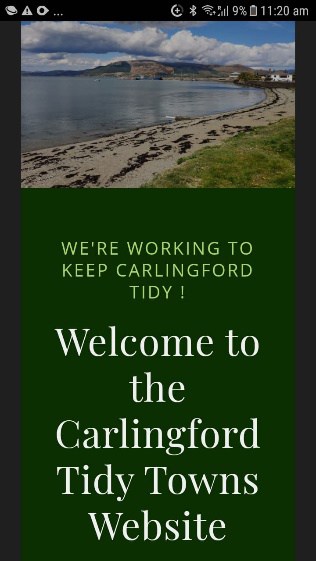 A new initiative from Carlingford Tidy Towns to recognise the efforts and achievements of our Tidy Towns Volunteers, of our business sponsors and of the residents of Carlingford for making our town an amazing place to live and for people to visit. Many Thanks to Richard Lewis of 'On Yer Bike' who sponsored the site.