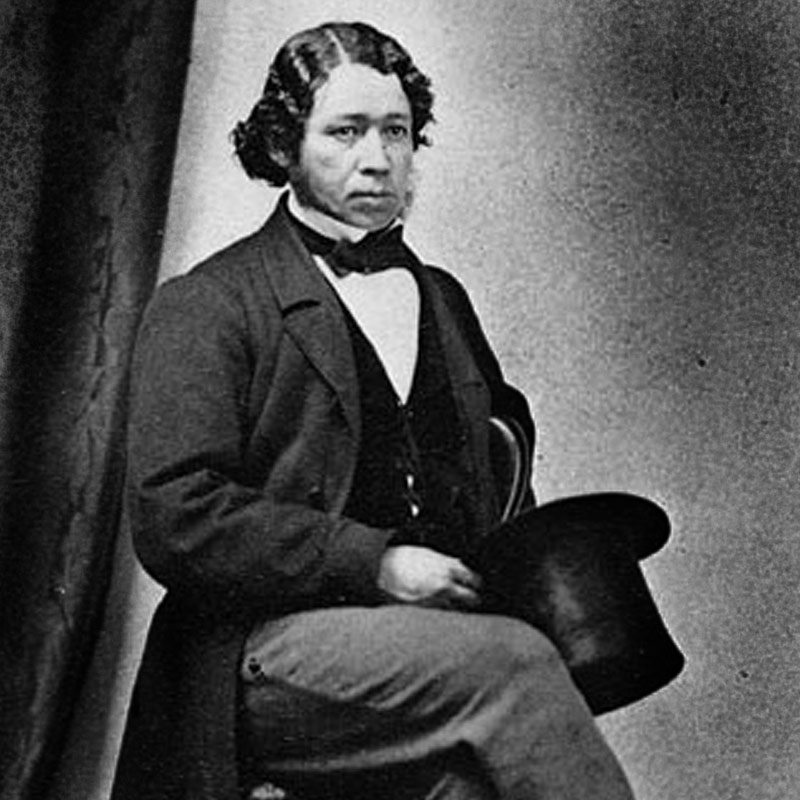 Thomas D'Arcy McGee, politician, journalist, poet, historian (born 13 April 1825 in Carlingford, Ireland; died 7 April 1868 in Ottawa, ON).
Thomas D'Arcy McGee's political career was shaped first and foremost by his dedication to Irish national liberation, which pushed him towards revolutionary anti-British doctrine in his early years. But amid radical transformations in his own circumstances, McGee ended his career as a Canadian Parliamentarian and staunch defender of British constitutional monarchy. McGee's political transformation ultimately damaged his popularity and in 1868 he was assassinated.
Early Life and Career
Born in a small coastal village in eastern Ireland, Thomas D'Arcy McGee's background was by no means privileged. Given his mother's love for Celtic mythology and her sympathies for the national struggle, he became versed in Irish culture from a young age. In 1842, at age 17, he emigrated from Ireland to the United States and eventually settled in Boston. He began to make a name for himself almost immediately. After delivering a speech excoriating British rule at the society of the Boston Friends of Ireland, he was hired at the Boston Pilot, and two years later became a co-editor there. Writing for New England's swelling Irish community, McGee focused largely on promoting the movement for Irish self-determination led by Daniel O'Connell.
McGee's work eventually caught the attention of O'Connell, and in 1845 — just at the onset of the Potato Famine — he returned to Ireland to fill a position at the Freeman's Journal, which was closely linked to O'Connell's party, the Repeal Association.
About this time, McGee fell in with the Young Ireland movement — a group of nationalists who espoused plans for Irish emancipation and were somewhat more revolutionary than the legislative approach taken by O'Connell. He soon began to butt heads with the Freeman's editors and resigned for a position at Young Ireland's paper, The Nation.
In 1848, as revolution swept across the European continent, McGee attempted to lead a rebellion for Irish independence. He traveled first to Scotland, where he hoped to find a rabble sympathetic enough to the Irish cause that they would take up arms against London. When this failed to occur, he returned to Ireland and attempted to stoke rebellion in the country's northeast — also a complete failure. Dejected and now wanted by the authorities, he escaped to the United States in October 1848. He landed in New York, where he eventually established an American counterpart to The Nation.
Over the course of the subsequent decade, McGee paid increasing attention to Canadian politics. Throughout his previous stint as an American journalist, his pro-Irish hatred of the British had dovetailed with pro-US hatred of the British. In some of his earlier editorials, he had even promoted a US annexation of British North America. "The United States of North America must necessarily in course of time absorb the Northern British Provinces," he wrote. "A river like the St. Lawrence cannot safely be left in European hands. […] Either by purchase, conquest, or stipulation, Canada must be yielded by Great Britain to this Republic."
Move to Canada East
Thomas D'Arcy McGee's loyalty was first and foremost to the Irish community. The dramatic influx of Irish immigrants to the United States throughout the 1840s had spurred an anti-immigrant movement that was led by a group called the "Know Nothings." His opinions began to shift after a series of visits to Canada, where, he concluded, minority communities enjoyed "far more liberty and toleration […] than in the United States." In response to the rise of Know-Nothingism, McGee began to advocate for the establishment of an Irish colony on the western frontier of Canada or the US — a project that earned him the nickname "Moses McGee." To accomplish his dream of an Irish colony, he organized a conference in Buffalo, New York, in 1856, which garnered about a hundred delegates, 43 of whom were Canadian. But they ultimately failed to raise enough cash to claim a township. The endeavour was further complicated by opposition from influential Catholic leaders in New York.
This stoked previous tensions between the Church and McGee. Although an extremely devout and conservative Catholic, he had blamed the Church for the failure of the Irish people to revolt in 1848. As he proceeded with the colonization project, American Bishops mocked him for suggesting that Canada could be any more liberal than the US since it was dominated by the Orange Order. McGee expressed confidence that the Canadian club was far more moderate than its militant counterpart in Ireland, writing that it "is far more political than religious and […] I am assured by the most respectable Catholics in Canada West that they have no better neighbours […] than these same Orangemen."
As McGee's biographer David A. Wilson has observed, some of McGee's opponents were right to suggest that Canada was not necessarily more tolerant towards Catholics. In some areas, the Orange Order was tremendously powerful and highly exclusionary. At the same time, the Canadian government had already begun to establish a framework for the accommodation of Catholics — especially in Canada East. Wilson writes, "There were so many local and regional variations that enough evidence could be found to support any predetermined position, positive or negative."
McGee's gradual disillusionment with the United States, coupled with the suggestion of some Canadian friends that the Irish community was in need of political leadership, led to his emigration to Montréal in the spring of 1857. He established a new publication called New Era, in which he promptly began to espouse the cause of Confederation.
Turn to Politics and Confederation
In December 1857, Thomas D'Arcy McGee was elected to Canada's legislative assembly as one of three representatives for Montréal. In public life, as in his writing, McGee became a staunch supporter of the cause of Canadian nationhood. As biographer Alexander Brady has written, "To McGee nothing seemed more apparent than the fact that the Canadas should form the nucleus of a nation." After establishing a publication and a new political career in under a year, McGee had arguably become the most "fervid apostle of British American union and nationality."
Through the remaining decade of his life, McGee's political stances reflected his growing conservatism and respect for British Parliamentary democracy. Initially, he worked with the short-lived Reform government of George Brown, and later in the moderate Reform government of John Sandfield Macdonald. But he defected to the Conservatives in 1861 to endorse a bill for separate Catholic schools, and eventually joined John A. Macdonald's government as minister of agriculture, immigration and statistics.
In 1864, he helped organized a diplomatic tour of the Maritime colonies for delegates from the Province of Canada. His stump speeches in favour of British North American union on this tour supported his reputation as the most eloquent public speaker of his cohort (two of his most famous speeches on Confederation were subsequently published). He attended both the Charlottetown and Québec Conferences in 1864, but was excluded from the delegation sent to the London Conference in 1866, by which time his political base was eroding.
Later Career and Assassination
Thomas D'Arcy McGee's popularity soon faltered, however, as he began to publicly denounce the growing Fenian movement — an Irish national movement whose methods and objectives could easily have been based directly on McGee's own revolutionary screeds. He encouraged the Irish national struggle to follow more or less the Canadian model of (limited) self-government within the British Empire. (See also Fenian Raids.)
He was eventually seen as a traitor by the very Irish community he sought to defend, and by 1867 he expressed a desire to leave politics. Sir John A. Macdonald had planned to appoint him commissioner of patents, which would provide him with some spare time to pursue his literary work.
READ MORE AT http://www.thecanadianencyclopedia.ca/en/article/thomas-darcy-mcgee/