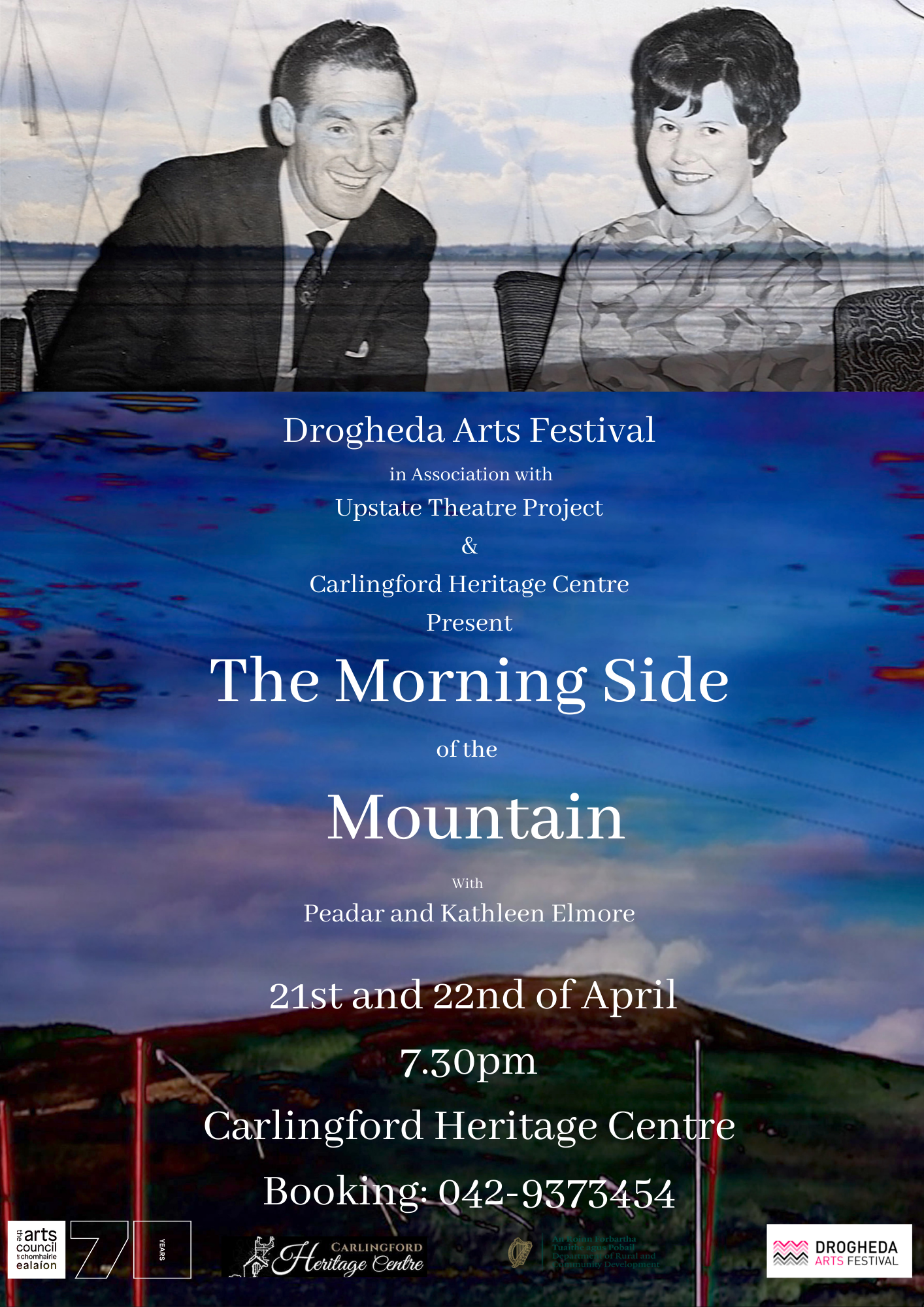 The Morning Side of the Mountain – Premiere
Upstate Theatre Project presents The Morning Side of the Mountain, in association with Drogheda Arts Festival and Carlingford Heritage Centre.
Upstate, Visual Artist Vivienne Byrne and musician/composer Breifne Holohan introduce you to story tellers Peadar and Kathleen Elmore and their home in the Cooley peninsula. Their life story is presented and told through pre-recorded audio conversations with the couple, projected family photographs and film footage of the Cooley landscape along with music especially composed and performed live. Through recorded conversations, the couple tell tales of endurance through the upheavals of World War II, the trials of the Troubles and the delights in the finer things of a simple life in rural Ireland, lived in the beautiful surroundings of Cooley. In 2019 Upstate Theatre Project in partnership with the Carlingford Heritage Trust undertook a series of recorded conversations with members of the Cooley peninsula, resulting in the first oral history archive of the Cooley region. Amongst the many voices recorded were the couple Peadar and Kathleen. Both have sadly passed away due to Covid-19. This project pays tribute to a wonderful couple who's stories of a long life, was shaped by landscape, time and culture.
The Company
Upstate Theatre Project was initiated in 1997 as a community-centred performing arts organisation. The company has developed a unique methodology rooted in community arts and has evolved a participatory and collaborative ethos and practice that is celebrated locally, nationally and internationally. Upstate Theatre Project assisted in the development of the Drogheda Arts Festival and its evolution. The company has contributed as a programmer and artistic contributor over the arts festival's history with particular emphasis on community-centred performances.
Vivienne Byrne
Visual Artist and cultural activist, Vivienne's work traverses the many boundaries of visual mediums working as an illustrator, videographer, graphic designer. She also incorporates drawing, painting, print, sculpture, performance as well as video editing, projections and digital technologies in her solo work She is a founding member of Borrowed Ground Artist Studio and Chairperson of the Droichead Arts Centre.
Breifne Holohan
Breifne is a musician and composer from Drogheda. As both a composer and musician he has won a number of awards including the Bill Whelan International Music Bursary for Young Composers. He released his debut, Eastern Passages, an album of original compositions for electric guitar and electronics. He has written scores for The Dream Work, a Collaborative Artists Company production, and Kelley-Abbott Dance Theatre productions.
John McGovern
John McGovern is the Technical Manager for the Droichead Arts Centre and Production Manager for a number of Upstate Theatre Project's public presentations including, Lighting and Set Designer for Urban Oratorio, Lighting Designer and Production Manager for Lysis a built audio/visual installation.
The Adult Ticket ticket sales has ended!
The Concession Ticket ticket sales has ended!