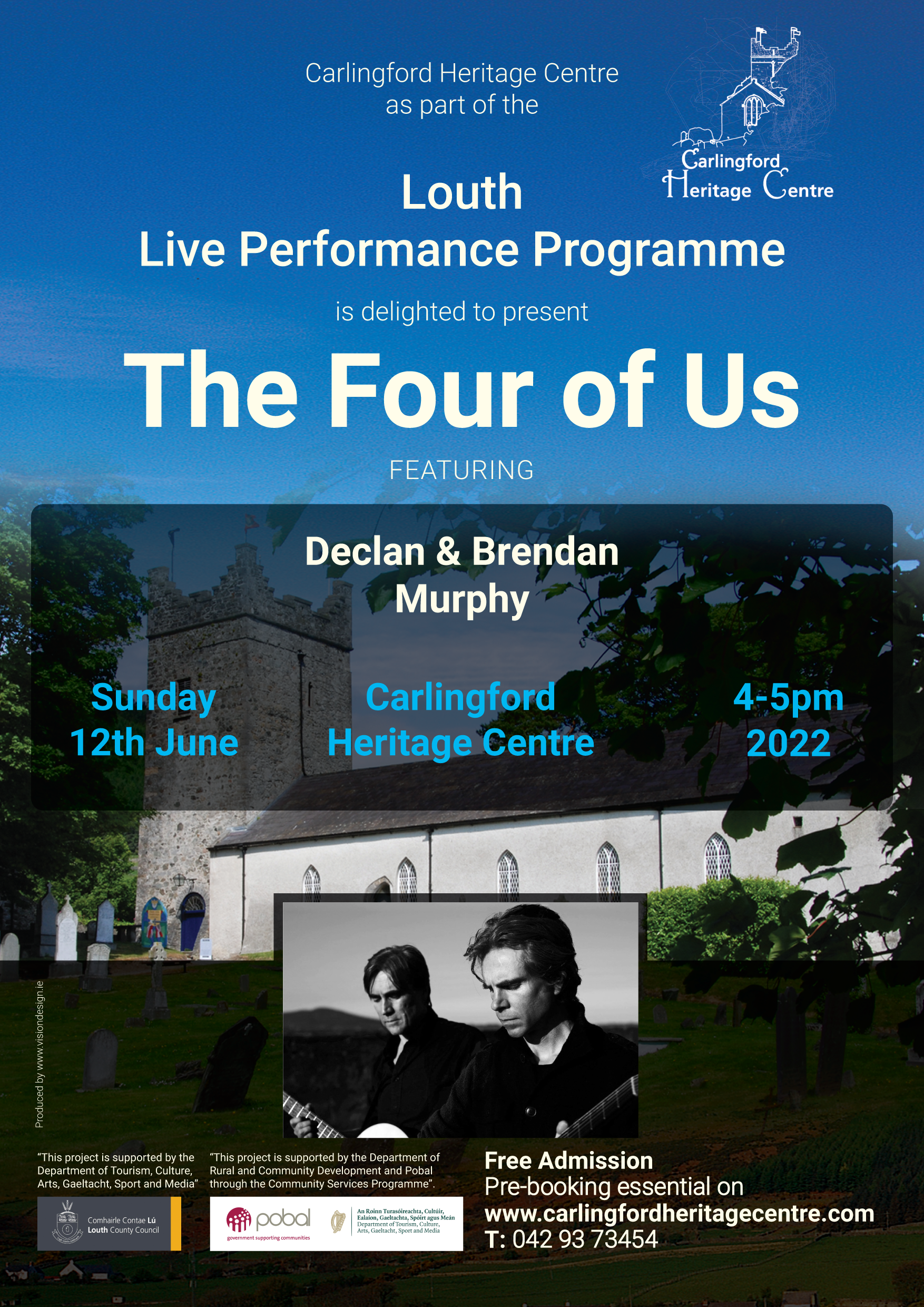 Louth Live Performance- The 4 Of Us June 12th 4-5pm Sold Out
Carlingford Heritage Centre is delighted to announce the final concert of the April, May and June series as part of Louth County Council's 'Louth Live Performance Programme'. It is indeed a pleasure to present some world class artists to our audience in Carlingford and environs, revelling in the joy of live performance again after such a long covid-enforced silence.
Our concerts are part of the Local Live Performance Scheme initiated by the Department of Tourism, Culture, Arts, Gaeltacht, Sport and Media to allow the live music and entertainment industry to get back to bringing their music to audiences, bringing audiences to their feet, and also allowing people to attend these special events for free!  Bringing music back to where it belongs. Following three wonderful afternoon concerts featuring the finest classical and traditional Irish artists, we are now moving into a more mainstream genre for our final performance, and are delighted to present;
 The 4 Of Us
on
12th June from 4-5pm
The 4 Of Us have been a steadfast part of Irish music history for over a quarter of a century. Formed and fronted by Newry-born brothers Brendan and Declan Murphy, they have developed a unique musical identity which has produced original and award-winning recordings, as well as a large and loyal fan base.
The band launched its recording career with the single 'I Just Can't Get Enough'. However, it was with the release of their third single, 'Mary' that The 4 Of Us really announced its arrival on the scene. The single reached the Irish Top 10 and has remained a national favourite ever since, remaining one of the most played tracks on local and Irish radio.  The band's debut album, 'Songs For The Tempted' topped the chart upon its release, went double platinum in Ireland and won Best Album of the Year at the Irish Music Awards, defeating the internationally-known act U2. The brothers and their acoustic guitars give a haunting background to tales of growing up in Newry, Co. Down, a town on the border and on edge during The Troubles, featuring love, loss and even 'Sugar Island'.  With over 10 albums released, the 4 of Us have earned their reputation as one of the top Irish bands over the last 30 years.
"One of the best nights of live music I can remember – an acoustic masterclass". All concerts will be free but please note that numbers are limited due to space and safety.  Bookings will be made online below. With sincere thanks to Louth County Council, Pobal, and the Department of Tourism, Culture, Arts, Gaeltacht, Sport and Media.
Sold out!