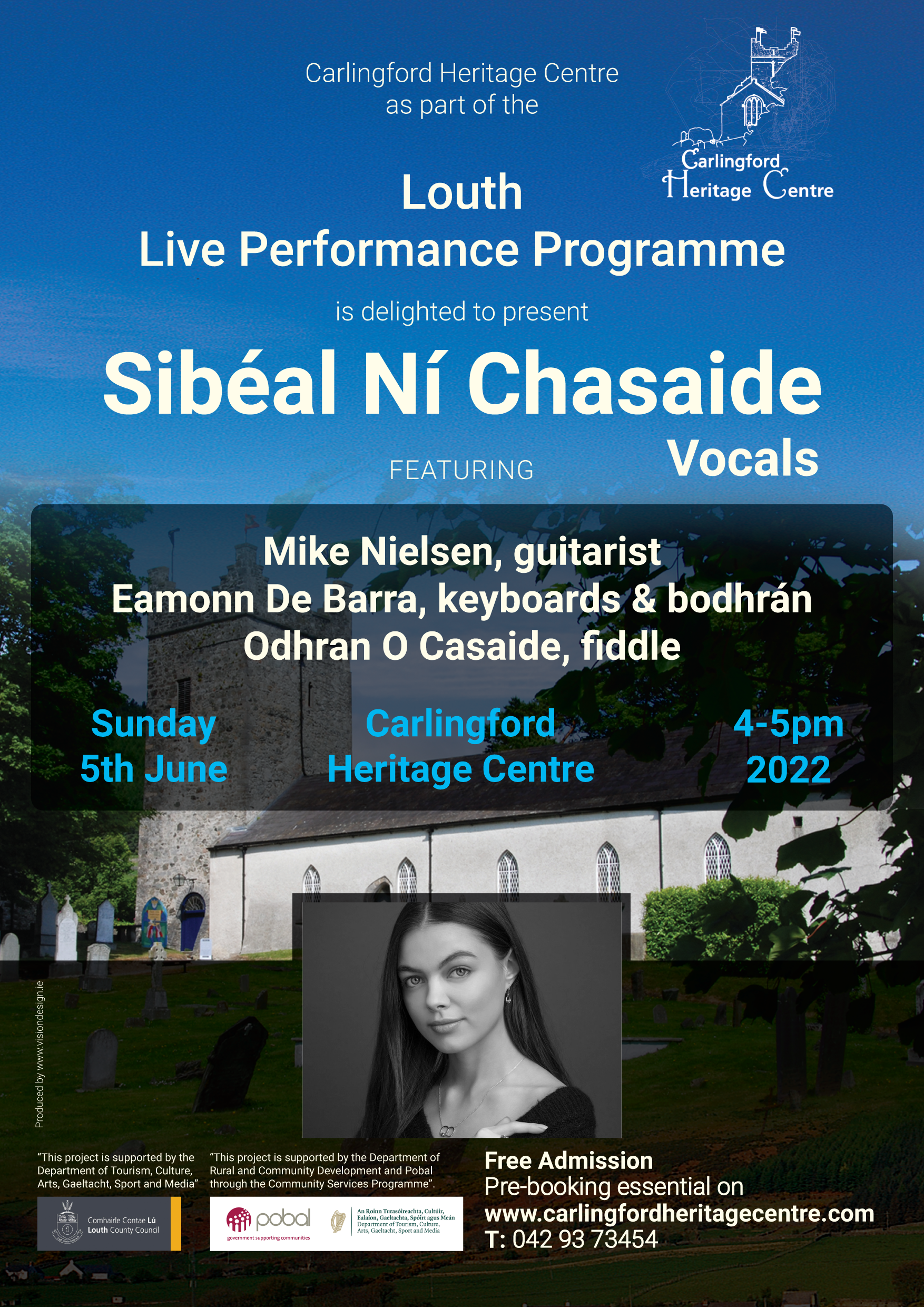 Louth Live Performance, Sibéal Ní Chasaide June 5th 4-5pm Last few Tickets
Carlingford Heritage Centre is delighted to announce the third in a series of concerts in April, May and June as part of Louth County Council's 'Louth Live Performance Programme'. It is indeed a pleasure to present some world class artists to our audience in Carlingford and environs, revelling in the joy of live performance again after such a long Covid-enforced silence. Our concerts are part of the Local Live Performance Scheme initiated by the Department of Tourism, Culture, Arts, Gaeltacht, Sport and Media to allow the live music and entertainment industry to get back to bringing their music to audiences, bringing audiences to their feet, and also allowing people to attend these special events for free. Bringing music back to where it belongs. Following an uplifting opening classical concert featuring voice, cello and piano, and our latest concert with local traditional players, Gerry O' Connor and family, we are delighted to present;
"A young woman of the new Ireland" Irish Independent, Sibéal Ní Chasaide
with Mike Nielsen, guitar; Nathalie Ní Chasaide, piano; and Ódhran O Casaide, fiddle
on 5th June from 4-5pm
Sibéal Ní Chasaide's unique vocal qualities and singing style command attention wherever she appears. She grew up in an environment that was immersed in all things Irish – Irish music, the Irish language, and Irish culture. Part of this background included the singing of traditional Irish songs and she became a supremely skilled exponent of the sean-nós tradition, a distinctive singing style whose origins are lost in antiquity. A singer like no other with a remarkable versatility in capturing mood and tonal quality, her vocal technique with its rich overlay of sean-nós, makes her singing style immediately recognisable and unmistakable. She has perfected this style to produce "spine tingling", "evocative and powerful" performances. These are some of the qualities which propelled her to national fame at the age of 17 during the Irish government's centenary commemoration of the 1916 Easter Rising – the rebellion that paved the way for Irish independence. Sibéal stole the show in a star-studded, televised concert in Dublin with her emotional rendition of the song Mise Éire (I Am Ireland), which is featured in the TV documentary '1916'.
Sibéal's has gone on to perform in London, New York, Toronto and Sydney, is a regular on national television, recorded her debut release at Abbey Road Studios in London and has a major recording contract with Universal Records. "I hope people will hear my voice and see that sean-nós singing is very much alive. I want to communicate that to people in Ireland and the rest of the world." All concerts will be free but please note that numbers are limited due to space and safety.  Bookings will be made online on a 'first-come first-served' basis. With sincere thanks to Louth County Council, Pobal, and the Department of Tourism, Culture, Arts, Gaeltacht, Sport and Media.
The Louth Live Performance ticket sales has ended!