Barnavave:
The Geomyth, The Queen and The President
Barnavave Mountain, in Cooley, Co. Louth, Ireland, is a geomyth linking geology with fable, and Queen Medb with President Joe Biden by Paul Gosling.
My first view of Barnavave – literally: the gap of Meave – was from the backseat of a car en-route from Carlingford to Dundalk on the 10th June 2012. It was a Sunday evening and my mind was hazy with Guinness and something just achieved- the completion of that year's Táin March, the community walking festival which re-enacts the fabled expedition of Queen Medb from Rathcroghan, Co. Roscommon to Cooley, Co. Louth.2
Gazing absent-mindedly at the uplands out the side-window, a giant U-shaped cleft on a hill-summit suddenly caught my eye then vanished behind a hedgerow  only to return, fully visible as the car sped on now obscured again then lost to view gone!
The whole encounter took no more than 60 seconds, after which I was speechless, my brain a muddle. My heart told me that this was it – Bernas Bó Cúailnge the gap of the cows of Cooley, created by Medb during Táin Bó Cúailnge to spite the Men of Ulster (Figure 1).
However, my mind was a whirr with questions. How had I not seen this before? How had I not heard of it? And most troubling, how had I not read of it in any of the books and learned papers I had trawled through for months past, re-examining the epic story of Medb's famous quest to capture Donn Cúailnge (brown bull of Cooley), the only equal of Finnbennach (white flanked), the marquee bull belonging to her husband Ailill. Though a native of Dundalk, a UCD trained archaeologist and a part-time Táin guide, I had only recently begun to grapple seriously with the geographic intricacies of Táin Bó Cúailnge: Ireland's most famous medieval tale, and one of its finest literary products. Looking back on it now, I am struck by the fact that I did not share what I saw with my fellow passengers. What I had glimpsed so silenced me – me, a supposed expert on the Táin that it took days of re-checking sources and maps before I was ready to acknowledge what I had seen.
Later, I realised that Barnavave Gap is only visible from the main road, the R175 in the immediate vicinity of Grange, and that was where I had glimpsed it. In fact, the viewshed of the Gap from the plain of Cooley is restricted to a narrow strip of farmland between Templetown and Whitestown ( Figure 2). Only in the centre of Grange Village, outside Long's thatched pub, of at the Cross of Grange, 1/2 kilometre further north, does one get a really clear view of it from a main road. And then there's weather: the Cooley uplands are shrouded in cloud for a third of the year. It also dawned on me that most of the academics who previously visited Cooley to re-trace Medb's bull- quest, had never seen the Gap either. However many appear not to have left the car or the bus to actually walk the uplands. And even among those that had, the existence and scale of the Gap is only really apparent when one is literally upon it. What every Cooley farmer, schoolchild and hillwalker knows- like they know St. Patrick came to Ireland in the year 432 the academics, including myself, knew not.
Barnavave as Geomyth
'Afterwards they [the Connacht army] went round the river Cronn [Big River in Cooley] as far as its source, and they would have gone between its source and the mountain only that Medb would not allow it.  She preferred that they should go across the mountain so that the track they made might remain there for ever as an insult to the men of
Ulster. So they remained there three days and three nights until they had dug up the earth in front of them (to make a pass through the mountain) which was called Bernas Bó Cúailnge'.
Figure 1: The creation of Barnavave Gap according to Táin Bó Cúailnge.
Translation from medieval Irish by Cecile O'Rahilly (Táin Bó Cúailnge Recension I, Dublin 1976, p. 153). Looking back through my day-diary for June 2012, I find traces of frenzied activity: a latter-day Paul-the-apostle infused with righteous enthusiasm after his roadside epiphany. A note under the 18th reminds me that I was busy re-reading the literature on Barnavave. I am struck by how obvious is the case for it being the 'bernas bó' of Táin Bó Cúailnge. Even in the early manuscript versions of the story, the evidence is there in the name itself. From its oldest iteration in the early 12th century Book of the Dun Cow — Bernas Bó nUlad alias Bernas Bó Cúailnge one can trace its orthographic evolution through the later 12th century Book of Leinster Bernais Tána Bó Cúalnge — to the late 13th century version of the story where one finds Bearnus Tána Bhó Mheadhbha (gap of Medb's cattle raid) and on to the
present day Barnavave (gap of Meave).3
By the 6th of July, I have finished the first draft of an article on the subject. Twelve days later, I drive from Galway to Cooley and climb Barnavave for the first time. By the end of July, a second draft is finished. In late August, I am back in

Carlingford for the annual Heritage Week with my partner Anne Byrne. We climb the gap and Anne captures some stunning images of it with her high-spec camera (Figure 3). My fascination with the Gap, and appreciation for the woman, deepens. Finally, on the 1st of September, the finished paper, complete with Anne's photographs, is posted out to six readers.
Figure 2: The Cooley Peninsula on the one-inch Ordnance Survey map of 1905. Barnavave (1142 ft) is at centre (red dot), its viewshed from the plain of Cooley highlighted in blue (reproduced with permission of the Ordnance Survey of Ireland).
In May 2013 my paper is published in the County Louth Archaeological and Historical Journal.4 In late June, I attend the Fourth International Conference on the Ulster Cycle Tales in Belfast. There I meet for the first time, many of the leading scholars of the Táin: Kay Muhr, Ruairí Ó hUiginn, Hildegard Tristram, Gregory Toner, and Doris Edel. I distribute offprints of my paper and receive general support for the argument that Barnavave is the gap featured in the Táin. However, I am struck by the resistance of Doris Edel to my thesis. She has walked the uplands of Cooley many times and visited Barnavave, but argues that: 'it is not a pass, as the narrative requires [because] it offers no connection between places'.5
This position – that the gap must be a viable mountain pass – is a persistent theme amongst writers on Barnavave, including the song- and folk-lore collector Henry Morris (Enrí Ó Muirgheasa). Writing in 1905, he concluded that 'the whole thing seems most improbable that Meave set her men to quarry their way through a rock 30 foot high and 80 yards wide, cannot for a moment be entertained I fear the "Gap" must be sought for somewhere else'.6
However, most of the 'opposition' to Barnavave being Bernas Bó Cúailnge stems from ignorance of its existence rather than incredulity regarding its scale. Take for instance, Thomas Kinsella, whose acclaimed translation of the Táin was published by Oxford University Press in 1970.7 His detailed map of Queen Medb's wanderings in Cooley omits Barnavave entirely. Though Kinsella and Gene Haley, the Harvard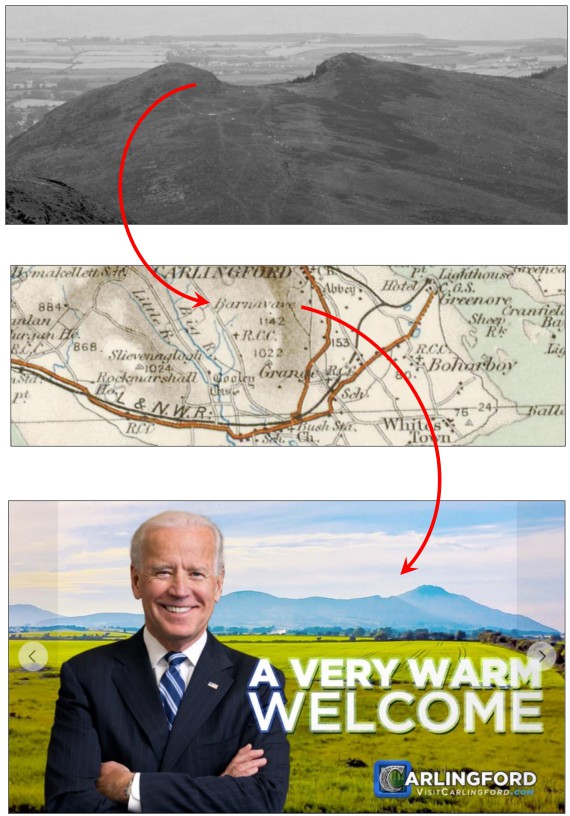 a) Looking south from Slieve Foye at Barnavave with the plain of Cooley beyond (Photo: A. Byrne, August 2012)b) Barnavave on the 1-inch Ordnance Survey map of 1905 (reproduced with permission of the Ordnance Survey
of Ireland). c) Photographic collage of US President, Joe Biden, against a backdrop of the Cooley mountains (Facebook, 23.6.2016). The image celebrates his visit to Cooley in 2016. President Biden has strong links with the Carlingford Peninsula through his relatives, the Finnegan family.
Figure 3

scholar who assisted him, both visited the peninsula on several occasions, neither appears to have been aware of the gigantic gap on Barnavave Mountain. Had they witnessed the Gap, they would surely have acknowledged it. Instead, their map equates Bernas Bó Cúailnge with the Windy Gap at the top or north end of Glenmore, the great valley that dissects the Peninsula (Figure 2). This short V- shaped defile is a diminutive version of the Sally Gap in Co. Wicklow, and it connects Glenmore with the valley behind the seaside resort of Omeath.
Plonked in the middle of the gap is the supposed grave of The Long Women, which likely began life as a pile of road-maker's rubble but has since received more makeovers than Lady Gaga. This faux archaeology, coupled with Kinsella's advocacy of it as the Gap of Medb, has misled many a scholar and myriad websites. Of all those who have commented on Barnavave, Father Nicholas Lawless, pen-name Enda, has displayed the surest hand. Not only was he the first modern writer to equate Bernas Bó Cúailnge with Barnavave but also the most discerning when he declared in 1906 that 'to attribute the cutting of … a great natural feature like Barnesvave.
Gap to Maeve is worthy of a poet'.8
For Barnavave Gap is mythic: a wondrous but natural breach on a mountain top that immediately invites allegorical explanation.9 Modern geologists classify features like it as geomyths. At its simplest, a geomyth is a striking geological item or event traditionally explained by a legend.10 In this case, a doughty Queen creating a gigantic landmark as a permanent affront to the men of Ulster. When viewed in this manner, Barnavave is part of a world-wide phenomenon of monumental geology which includes such iconic sites as the Giants Causeway in Co. Antrim and the Devils
Tower in Wyoming, USA. Within Ireland, it is directly comparable to The Devils Bit, near Templemore, Co. Tipperary. This is another natural but equally dramatic skyline cleft which according to legend, was created when a demon, or The Devil himself, took a bite out of the mountain, and then dropped it 30 kilometres to the south, thus forming The Rock of Cashel. With a 1,000-year-old origin myth preserved in some of Ireland's oldest manuscripts, Barnavave surely deserves wider recognition as one of the island's premier heritage sites.
It is mid-January 2022 as I put the finishing touches to this script. I chance across a Facebook image – a photographic collage – on the Visit Carlingford tourism page (Figure 3). It shows US President, Joe Biden, profiled against the backdrop of the Cooley Mountains. And there it is, just above his left shoulder, Barnavave Gap outlined against the sky. Framed thus, alongside one of the most powerful figures on earth the great grandson of Cooley farmers  the Gap resonates nature, myth and sovereignty.
ENDNOTES
1 Paul Gosling is an independent archaeologist based in Clarinbridge, Co. Galway. A native of Dundalk in Co.
Louth, he taught in the Dept. of Heritage and Tourism, Galway-Mayo Institute of Technology from 1997 to 2019.
His research has focused mainly on archaeological survey and his published work includes surveys of the field
monuments of Co. Galway and Clare Island in Co. Mayo, as well as topographical analyses of several medieval
towns including Dundalk, Carlingford, Tuam and Mullingar. He is currently researching the placename and route
aspects of the great medieval epic Táin Bó Cúailnge (see https://independent.academia.edu/PaulGosling). E-mail:
paul.gosling@gmit.ie. Mobile: +353(0)879732800.
2 For further details of this annual event, see www.tainmarch.ie (last accessed 17.1.2022).
3 Táin Bó Cúailnge survives in three versions, as follows: Recension I, in the Book of the Dun Cow; Recension 2 in the
Book of Leinster; and Recension 3 in two manuscripts, British Library (Egerton 93), and Trinity College Dublin
(H.2.17).
4 'Placing names in Táin Bó Cúailnge: the gaps 'Bernas Bó Cúailnge' and 'Bernas Bó Ulad''. County Louth Archaeological and Historical Journal 27, 4(2012), 553-68.
5 Inside the Táin: exploring Cú Chulainn, Fergus, Ailill and Medb, (Berlin, 2015), p. 244.
6 'Notes and Queries: Barne's Vave', County Louth Archaeological and Historical Journal I, 2(1905), 92.
7 Kinsella's translation was first published in 1969 by the Dolmen Press, Dublin. However, it was not until the appearance of the Oxford edition in 1970, that a detailed map of the Cooley Peninsula was included.
8 'Barne's Vave', County Louth Archaeological and Historical Journal I, 3(1906), 95.
9 For details on the geology of Barnavave see Sadhbh Baxter, A geological field guide to Cooley, Gullion, Mourne and Slive Croob (Dublin 2008).
10 The term 'geomyth' was coined in 1968 by Dorothy Vitaliano (1916-2008), a geologist at the University of Indiana, USA – see D.B. Vitaliano, 'Geomythology', Folklore Institute Journal 5, 1(1968), 5-30.